Green light for new London Resource Centre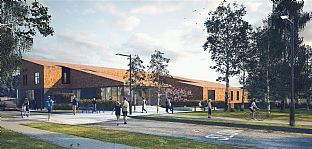 30.1.2018 | In collaboration with Lambeth Council, C.F. Møller Architects is now one step further to building a new resource centre for adults with learning disabilities at Coburg Crescent in Lambeth, South London.
The project received a unanimous approval by the Lambeth planning authorities on the 23rd of January and is now ready to move forward into the construction phase. The plan is to commence on site in May 2018 and to complete in the summer of 2019.
"We are very pleased to have received this planning permission and continue our constructive collaboration with Lambeth Council on this unique project. We are feeling proud of our contribution to making the world better and more dignified for people with learning disabilities.
We are particularly keen to ensure that the proposed service facilities move away from older institutional models. We understand it proves essential to provide the maximum flexibility for future service provision and integrate the service users as much as possible within the wider community", says Rolf Nielsen, Associate Partner at C.F. Møller Architects in London.
Collaborative Culture
The opportunity of working together with the Adult Social Care team and engaging closely with the cohort of service users has produced a unique building, tailored for their very specific needs.
The new resource centre at Coburg Crescent is a multi-purpose building, its primary role is to act as a day centre for adults with learning disabilities. This is alongside providing therapeutical rooms and supported living accommodation, for both long and short stays. The centre also houses a space for the wider community, including a shop and café, offering opportunities of employment to service users and actively highlighting the collaborative culture of the day centre.
The building's form is articulated as a sheltering courtyard with an active, residential scale street frontage along the Palace Road Estates. A 3 metre fall across site is mitigated by locating the main entrance and protected drop-off area in the lower site in order to provide step-free access. Whilst a second main entrance to the most public areas, including the café, community space and shop, is situated on the first floor level street frontage.

The simplicity in the design is characterized by a large sloping roof, which embraces all the different parts and components of the building within one single volume. The upper envelope wraps the top floors and roof by using a single clay tile rainscreen cladding system. Whilst the ground floor plinth level is expressed using contrasting darker brickwork.
Experts in Healing Architecture
The use of healing architecture and evidence-based design is adopted in two other UK projects by C.F. Møller Architects. Notably comprising the Springfield and Tolworth Mental Health Hospitals, currently underway in South West London. Together with landmark facilities such as the Aarhus University Hospital in Denmark, the largest hospital project in Danish history and winner of the 'Best International Healthcare' Award in 2017, this underlines C.F. Møller Architects' global leading position in delivering state-of-the-art healthcare design.

Across Europe, C.F. Møller Architects is working on several major healthcare developments, including the world's first fully-automated sterilisation centre at the National Hospital in Denmark. Alongside an extension to the iconic and listed University Hospital RWTH in Aachen in Germany, won in an international design competition in 2017, in collaboration with the German practice HENN.