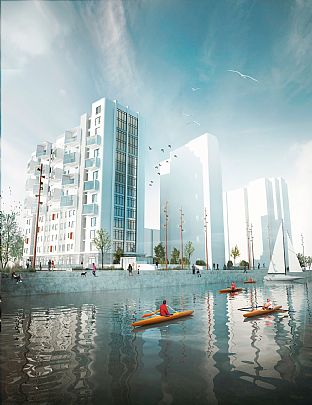 2.3.2017
Groundbreaking for the last residential construction project on Aalborg's central waterfront
On Wednesday, 8 March 2017 the groundbreaking ceremony was held for the last major residential construction project along Aalborg's central waterfront, more specifically the area called the Musikhus (Music House) Quarter.
"One of this part of the port area's best known landmarks is the former grain and feed silo, which will be the basis for a mix of family homes, youth homes and owner-occupied flats. The original silo tower could not be reused, but since the building has such a striking industrial expression, we decided to build a new tower with the same dimensions and general appearance as the original structure," says Himmerland Housing Association's Director, Ole Nielsen.
Himmerland Housing Association is the client for the complex's 18 family and 62 youth residential units, while A. Enggaard A/S is the client for 34 owner-occupied flats.
Ole Nielsen emphasises that the construction project, called the Silo, will be a mix of different types of ownership and age groups. He hopes that this can provide the setting for an inspiring meeting across the generations, where residents' different profiles can help to create an interesting urban environment:
"The overall planning objective for this part of Aalborg's waterfront has been to create a densely built urban quarter with a new and different urban environment that arises from the encounter between the industrial cultural heritage, modern architecture of high quality, and an active urban life. The Silo will make a vital contribution to this, since in this case the former industrial building is reused as a unique setting for new functions.
The new residential complex, covering almost 10,000 square metres, will be designed with a number of shared functions on the ground floor. The Silo will have four storeys with public youth housing, followed by three higher storeys with public family housing. The top part of the complex will be private owner-occupied flats.
"On the transformation of the Eastern Port from a bustling commercial port into an attractive new urban quarter, a few of the striking buildings that have marked out Aalborg's skyline over the years have been retained and restored. In the case of the former grain silo, the original design is reinterpreted as new façades with division into vertical elements, where different materials such as glass, brick and plastered surfaces denote the outline," says Søren Tortzen, head of department at the firm of architects C.F. Møller in Aalborg.
C.F. Møller designed the new building, while Niras A/S is the engineer, and A. Enggaard A/S is the turnkey contractor.
The overall construction period is expected to be around 15 months.