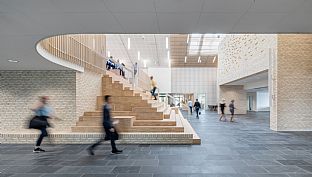 6.9.2018
'Hjertet i Ikast' (the Heart of Ikast) official opening
The new multipurpose centre 'Hjertet i Ikast' designed by C.F.Møller Architects is to open on 8 September. The opening ceremony will feature speeches, concerts and activities inside and outside for all ages – in the true spirit of the building.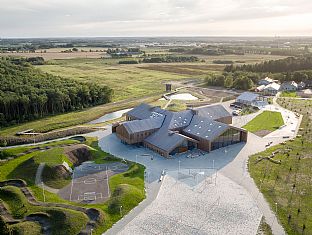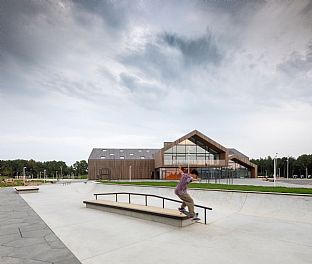 Hjertet i Ikast  is a new meeting point centred round culture and communication in the heart of Ikast. It combines teaching, activities, communal activities, physical exercise and play in various new ways.

As part of Ikast-Brande Municipality's 'Vision Vestergade'  plan, C.F. Møller Architects have shaped  Ikast's new 'heart' with a major expansion of the International School Ikast-Brande.

This new centre in Ikast will be a venue where meetings can take place and relationships can be built between different social communities and age groups.The building is designed to create and promote social and cultural meetings, based on an inclusive and integrating  approach.
"We are delighted that Hjertet is to open officially. The ambitions of the client have been in perfect alignment with our own vision of increasing the quality of life for people through architecture that is able to  contribute to the creation of new communities. That's why Hjertet was intended as a local melting pot that lets people meet and share their interests across age groups and walks of life , creating a place where there is life most hours of the day," says Julian Weyer, architect and partner at C.F. Møller Architects.

The official opening ceremony scheduled to take place from 9 a.m.  on 8 September will feature speeches, champagne, cakes , street food and a concert with Shaka Loveless.
The full program can be found at hjertet.nu
Learning, play and exercise
The expansion comprises a sports hall, multi-function and teaching facilities  and socioeconomic workplaces, including a café and office facilities. Besides creating even better teaching facilities at the school, the expansion will provide the setting for a new centre located in a rapidly developing area of Ikast. 'Hjertet' is surrounded by a band of activitywhich provides for communal activities, physical exercise and play for many different users.
Everything connected
C.F. Møller Architects' Landscape Department was responsible for the development  of the landscape and represents an excellent example of C.F. Møller Architects' holistic way of working, in which landscape and building are conceived and developed as a cohesive whole. Specifically, it has also helped create the perfect relationship with the neighbouring international school , which was also designed by the architects and landscape architects of C.F. Møller Architects and was completed in 2013 .
Client: ISIB Ejendomsselskab A/S (owned by BESTSELLER's holding company HEARTLAND and Ikast-Brande Municipality).
'Hjertet i Ikast'  was also financially supported by Realdania, the Carlsberg Foundation, the Danish Foundation for Culture and Sports Facilities and a number of other local companies and sponsors.
Gallery