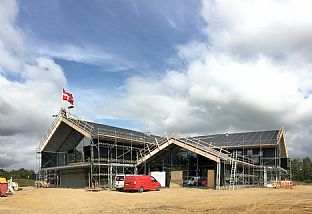 23.8.2017
'Hjertet' in Ikast is beginning to take shape
The topping-out ceremony for 'Hjertet' on Thursday, 24 August is a milestone and an important step forward in giving the area new life by gathering people of different ages with various interests.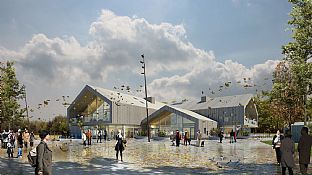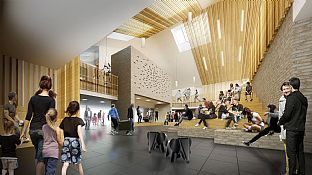 'Hjertet' in Ikast, Denmark, is a new centre for culture and communication in the heart of Ikast. This centre combines teaching, activities, communal activities, physical training and play in various new ways.
Promoting social sustainability
As part of Ikast-Brande Municipality's vision plan, Vision Vestergade, C.F. Møller has shaped Ikast's new 'heart' with the major expansion of International School Ikast-Brande. The new gathering point in Ikast will be a venue where meetings and relations arise across social communities and age groups. The building's framework is designed to create and promote social and cultural meetings, based on an inclusive and integrating approach.
Supporting the area's development
The expansion comprises a sports hall, multi-function and teaching facilities, as well as socioeconomic workplaces, including a café and office facilities. Besides creating even better teaching facilities at the school, the expansion will provide the setting for a new meeting place, anchored in a rapidly developing area of Ikast. 'Hjertet' is surrounded by a green activity band which provides for communal activities, physical exercise and play for many different users.
The building is being constructed by KPC for Ejendomsselskabet Ikast-Brande International School, in collaboration with Ikast Municipality, Realdania and Lokale og Anlægsfonden, and will be ready for occupation in the spring of 2018.
FUND SUPPORT FOR DIVERSITY IN C.F. MØLLER PROJECT
More on the project

Gallery