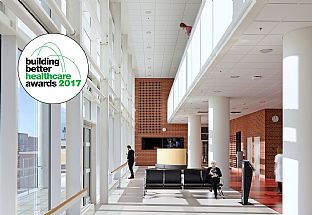 2.11.2017
International Healthcare Award for AUH
The Aarhus University Hospital (AUH) by C.F. Møller Architects, Cubo and Schønherr Landscape has been announced as winner of the prestigious Building Better Healthcare Award for Best International Design.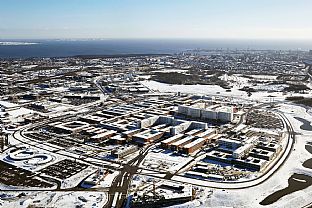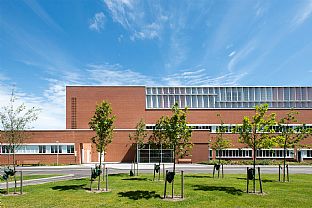 The UK Building Better Healthcare Award for Best International Design is intended to reward an outstanding project that contributes to new thinking and is relevant to the UK's future experience of delivering healthcare. The win underlines C.F. Møller Architects global leading position in healthcare design.

The 500,000 m2 Aarhus University Hospital is an ultra-modern hospital that is pioneering both in Denmark and internationally when it comes to the concept of "healing architecture" in the healthcare sector. The design, the biggest hospital project in the history of Denmark, has been created with systematic application of Knowledge and Evidence-Based Design.

People at the Centre
This means that the concept of "healing architecture" has influenced every decision concerning the hospital's physical design. This relates to every aspect, from the design of single-bed wards exclusively, and the consequent use of daylight and influx of light in all rooms, to a city-like layout for straightforward way-finding, extremely high degrees of future-proofing and flexibility, and the integrated design of landscape and garden spaces around the hospital.

The aim has been to meet as many as possible of patients' needs, requirements and expectations, promote the involvement of patients' relatives, and ensure optimum working conditions and streamlined workflows for all employees - to ensure a hospital that puts people at the centre.

Hattrick for C.F. Møller
The Building Better Healthcare Awards have been recognising, rewarding and celebrating best practice, all-round excellence and world-class architecture, design, facilities and estates management in the healthcare built environment for a the past 20 years. This is the third win for C.F. Møller Architects, after winning the award for the Akershus University Hospital in Oslo, Norway (2011) and the Emergency and Infectious Diseases Unit SUS in Malmö, Sweden (2012).

C.F. Møller Architects, Cubo Architects and Schønherr Landscape, together with engineers Rambøll, Alectia and Søren Jensen – combined as Rådgivergruppen DNU – together won the project for the New University Hospital in Aarhus in an international project competition held in 2007 by the client, the Region Midtjylland. The first phases of the 855 M € new hospital opened in February 2017, and have been realized on time and budget.

Current major international healthcare projects by C.F. Møller Architects include the Springfield & Tolworth mental health hospitals in London, the Haraldsplass hospital in Bergen, Norway and further designs in Germany, Belgium and Italy.
Gallery