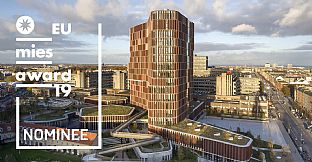 7.11.2018
Maersk Tower nominated for EU Mies Award 2019
The Maersk Tower in Copenhagen has been shortlisted for the European Union Prize for Contemporary Architecture – Mies van der Rohe Award 2019.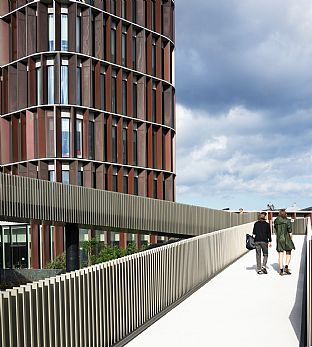 The European Union Prize for Contemporary Architecture – Mies van der Rohe Award is granted every two years to acknowledge and reward quality architectural production in Europe.
It has just been revealed that the Maersk Tower is shortlisted for the EU Mies Award 2019. The Maersk Tower is a state-of-the-art research building whose innovative architecture creates the optimum framework for world-class health research, making it a landmark in Copenhagen. It aims to contribute positively by linking the University of Copenhagen with the surrounding neighbourhoods and wider city.
Candidates for the Award are put forward by a broad group of independent experts from all over Europe, as well as from the architects' associations that form part of the European Council of Architects and other European national architects' associations.
- We are extremely proud of this nomination for the Maersk Tower. Foremost because it's based purely upon independent recognition from our architectural colleagues and considered as one of the most prestigious awards in Europe to be nominated for.
And as such we can't think of a better culmination of the long row of prizes and nomination for this very unique project. Whether it goes all the way or not, the nomination in itself stands as a highlight, says Mads Mandrup Hansen, partner and architect at C.F. Møller Architects.
Behind the Maersk Tower
Maersk Tower is the University of Copenhagen's modern new research tower. Its 15 storeys house the best possible facilities for research and teaching of the health and medical sciences. The building is designed by C.F. Møller and its sculptural, architectural expression makes it a new landmark in Copenhagen Science City. The design of Maersk Tower's structure, technical installations and other engineering work was undertaken by Rambøll. Around Maersk Tower, a new public campus park is established, offering outdoor study and recreation spaces for researchers and students, as well as new green nature settings for all the residents of Nørrebro. The campus park is designed by SLA. The Danish Building and Property Agency is the client and owner of the building, on behalf of the Danish State. Maersk Tower was made possible by a generous donation from A.P. Møller og Hustru Chastine Mc-Kinney Møllers Fond til almene Formaal (the A.P. Møller Foundation) and a special appropriation from the Folketing (Parliament).
Gallery