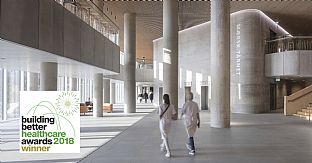 2.11.2018
Maersk Tower receives Building Better Healthcare Award
The Maersk Tower in Copenhagen receives a Better Building Award in the category 'Best International Development' at a ceremony in London.
The Building better Healthcare Awards celebrate innovation, architecture, people, products and services that are transforming patient care and outcomes.
The Maersk Tower is a state-of-the-art research building whose innovative architecture creates the optimum framework for world-class health research, making it a landmark in Copenhagen. It aims to contribute positively by linking the University of Copenhagen with the surrounding neighbourhoods and wider city.