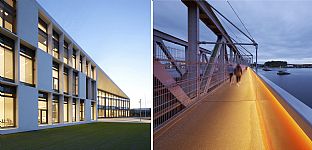 3.10.2017
Modern and Democratic Learning Environment Awarded
The Herningsholm Vocational School in Herning, and the Cultural Bridge in Aalborg, a new cycling and pedestrian connection across the Limfjord, are both projects by C.F. Møller Architects which have been awarded on the occasion of the international Architecture Day October 2nd.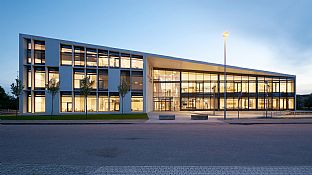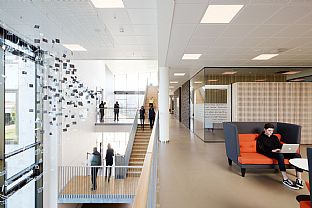 "The award goes to a convincing project, which creates an exciting and inspiring educational environment. The building forms a beautiful plaza with well-functioning outdoor areas in conjunction with the existing vocational school. The project has a very high quality in the floorplan layout, as well as the detailing of the facades."
This is the motivation for the Herning Municipality Architecture Award, given to The Herningsholm Vocational School's new wing, a learning environment adapted to modern and democratic principles with a high focus on architectural quality inside and out and a strong connection with the surroundings.

The building, which has already received international attention, opened in March 2017 and is the result of an architectural competition won by C.F. Møller Architects in 2014.

A Connecting Landmark
The Cultural Bridge, linking the cities of Aalborg and Nørresundby, won the Aalborg Municipality Architectural Prize on the same occasion, for its role as a crucial new link in the overall urban development on both sides of the fjord:
"By adding a light-weight structure onto a fine historical railway bridge from 1928, an important walking and cycling connection has been created spanning across the Limfjord. The bridge connection, which consists of suspended modules in a marked red color, has also become a distinctive landmark in its design and is in harmony with the railroad bridge's steel structure."
The cultural bridge is 403 meters long and was also inaugurated in March 2017, in a light and elegant design by C.F. Møller Architects, who is also behind the multiple-award winning development of the new Aalborg Waterfront.
More about the Herningsholm Vocational School
More about the Aalborg Cultural Bridge

Gallery