Molde's new cultural school has opened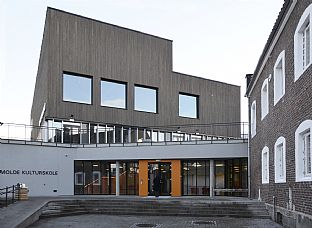 25.11.2016 | C.F. Møller is behind Molde Kulturskole (Molde Cultural School), which in November opened its doors to both students and the general public. A new building has been merged with the town's old prison, which is a listed building, as the setting for 1,300 students in a creative educational environment.
On 17 November, Molde Cultural School was inaugurated in a dignified, yet also informal, ceremony. This new educational venue will give the area's children and young people some striking new opportunities for creative activities.

"It's wonderful that Molde and Norway have gained a new institution that can support young people's cultural activities," says Christian Dahle, partner in C.F. Møller.

"We would therefore like to thank the client from Molde Kommune KF, the turnkey contractor Røberg Bygg and, not least, Molde Cultural School's 'first mover', Principal Ingvild Aas. This shared willingness to create a good venue for the school has resulted in a fine, optimised building, which connects the new and the old, inspiring a new type of learning environment," he says.

Two main elements creating one school
The new cultural school in Molde consists of two main elements, which together are merged into one cohesive school complex. The old prison with the municipal courthouse, which is a listed building and preserved under the Norwegian Directorate for Cultural Heritage, is combined with a new building which includes a theatre, dance arena, black box and various rehearsal rooms. This is all built on a base which serves as the link connecting the new building with the old.

The base contains the main entrance to the new creative learning environment. Above it are two storeys with lightweight, laminated timber façades.

"The idea is that the heavy base is the foundation, with associations to the prison walls, while the transparent, timber-covered building reflects the town's architecture," says Christian Dahle.

Three themes equal synergy
Molde Cultural School must invite the public in, but also be a space for the individual. C.F. Møller has therefore focused on creating a school based on three themes: conservation, communication and concentration.

Conservation is represented by the upgrading of the existing listed buildings. Communication is represented by the base and the surrounding glass frieze at first-floor level. This is where the school meets the surrounding world, via outreach functions such as dramatic art. Concentration is represented by the closed box at the top, where studies and preparatory exercises and training take place.

"The new Cultural School is a good example of how architecture can contribute to releasing potential – for institutions and also for the global society," says Christian Dahle.