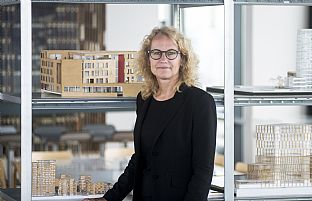 21.8.2017
New COO at C.F. Møller
As of 1 September, Lone Bendorff Farrell joins the executive management board of C.F. Møller as new COO
Since 2015, Lone Bendorff Farrell has been Senior Legal Manager at C.F. Møller.

"I'm really pleased to welcome Lone to the executive management team. With her professional background, keen analytical skills, organisational talent and international experience, we're all looking forward to further developing and strengthening C.F. Møller, both in terms of the organisation and our creative and artistic work, about which we are all so passionate," says CEO and architect Klaus Toustrup.

Lone Bendorff Farrell succeeds Helle Lehmann Staun, who after 11 years at C.F. Møller has taken on the position of executive director at law firm Bruun & Hjejle.
"I would like to congratulate Helle and wish her all the best in her new job, and thank her for her major contribution to C.F. Møller," says Klaus Toustrup.

As of 1 September 2017, the management of C.F. Møller consists of CEO Klaus Toustrup, Chairman of the Board Klavs Hyttel, CFO Birgit Møller and COO Lone Bendorff Farrell.
Lone Berndorff Farrell also becomes a member of the Boards of Directors of C. F. Møllers foreign subsidiaries.

About Lone Bendorff Farrell
Lone Bendorff Farrell came to C.F. Møller in 2015 from a position as Senior Vice President Legal & Risk Management at Vestas, where she served from 2005 to 2015. Prior to that, she was an attorney at Gorrissen Federspiel from 1998 to 2005.
She took her law degree from Aarhus University and Kings College, London.