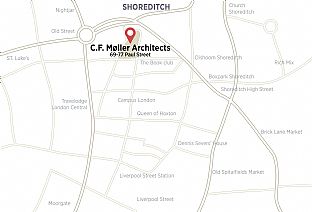 17.10.2018
New office space in London
C.F. Møller Architects' London branch has grown out of the office at Metropolitan Wharf and is moving into a bigger space at Shoreditch in London October 22.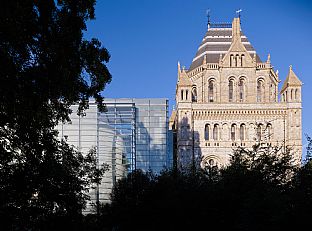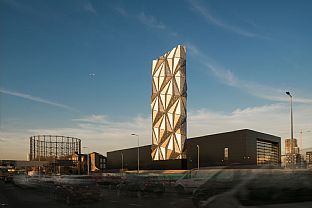 The London branch has experienced growth since the establishment of the office in 2001. This means the branch has outgrown its current office space at Metropolitan Wharf and is moving to a bigger space in Shoreditch.
- We are very pleased by the reception we have had since the beginning of our time in the UK and I would like to thank both our clients for long lasting collaborations and everyone at C.F. Møller Architects for making this possible. I am very pleased that there is a demand for architecture with a strong focus on wellbeing – for both planet and people – in the UK where we mix our Scandinavian heritage with both current and innovative building traditions, says Rolf Nielsen, Associate Partner in London. He runs the London branch along with director Teva Hesse.

Approximately 32 people are working at the London Branch that can be found at the address below from October 22.

C.F. Møller Architects
Telephone House
69-77 Paul Street, London
EC2A 4NW
Current projects in the UK
The London branch is behind the extension of the Darwin Centre and the Greenwich Peninsula Low Carbon Energy Centre that have been completed. The office is currently working on the revitalisation of the Laindon Centre, the housing projects Blackhorse Yard and Blackwall Reach, mental health hospitals in Springfield and Tolworth and a refurbishment of the Danish Church in London – to mention a few.
About C.F. Møller Architects
C.F. Møller Architects is one of Scandinavia's leading architectural firms, with 90 years of award-winning work in the Nordic region and worldwide.

The design solutions are methodically and holistically created following a rigorous analysis of the local context. We look to set new global standards by fostering a design approach which uniquely integrates urban planning, landscape, architecture and design of specific building components.

C.F. Møller Architects have offices in London, Copenhagen, Aarhus, Aalborg, Stockholm and Oslo.
Gallery