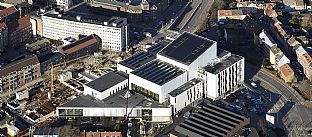 1.3.2017
Odeon opens its doors for major cultural events
With one of Denmark's largest music venues - and strong references to the city's H.C. Andersen quarter - a new landmark has been added to the map of Funen. On 1 March, Odense's new concert and theatre venue, called Odeon, opened its doors.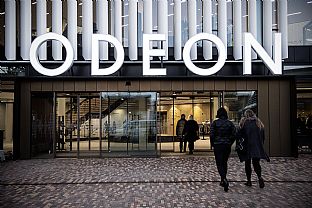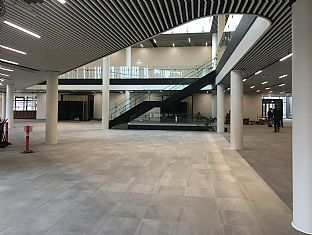 The people of Funen will no longer have to head east or west to find an international-class entertainment venue. Odense's new concert and theatre venue, Odeon, with 32,000 m² in total, and a multi-purpose hall with seating for audiences of more than 1,800, and over 3,000 people standing, can boast a new centre for culture and the arts – designed by C.F. Møller.
"We believe that art and culture create value for the individual, for the community and for society. This makes new venues for cultural activities important for modern cities' development. With Odeon, the city of Odense has gained a new cultural centre, a truly multi-purpose building, of which we're very proud," says Klaus Toustrup, CEO, architect and partner responsible for the project at C.F. Møller.
Visiting the birthplace of H.C. Andersen
Odeon and Odense Municipality's major new culture initiative, and the new complex with four venues, as well as the Danish National Academy of Music & the Acting School in Odense, all under one roof. The building also has a number of youth residential units and a grocery store.
"Odeon is not just for highbrow culture and a specific target group, but a venue where guests, visitors, residents and users can mingle with each other, thanks to the unique architectural features that create a multi-faceted and functional building. This makes Odeon a key aspect of Odense's ongoing development. Odeon is the place for both everyday and more festive occasions," Klaus Toustrup explains.
For this reason, the theme of identity has also been part of the inspiration for the design of the concert and theatre venue. The site lies in the heart of the city and was previously a large car park, in close proximity to the H.C. Andersen quarter – with small, idyllic houses in the historical city – on one side, and new multi-storey properties on the other.
"In the first instance, our key concept was to tackle this assignment from an urban planning approach. The primary challenge was that the construction programme required an enormous volume on a sized plot. So the idea was to divide the massive area into a series of buildings that are connected by interior streets and small squares, which then encircle halls and stages, while also connecting to the surrounding urban quarters," says Klaus Toustrup.
A calm background for a multitude of activities
A public-private partnership between Odense Municipality and KPC is behind the Odeon project. C.F. Møller was the turnkey adviser, with Cowi as consulting engineers, and Gade Mortensen Akustik together with AIX Theater Planning as specialists.
According to Klaus Toustrup, a cultural venue like Odeon does not have infinite financial resources available. He also emphasises that the focus has therefore been on simple, more economically attractive, yet robust, materials on the façades.
"A building like this one requires many complex functions. The design and materials chosen for the building are generally simple in their expression. This has served to create a calm background for the multitude of activities that will take place in the city," says Klaus Toustrup.
Odeon stand on a dark, vibrant brick base, topped by light concrete elements with profiled surfaces with vertical lines, to ensured varied light and shadow effects on the façades. The interior is finished with simple materials. In the open spaces between the white blocks there are suspended black steel stairways with ashwood floors.
A modern interpretation of the classics
Inside Odeon, the major attraction is the large multi-purpose hall, with space for both seated and standing audiences. This hall is flexible, and includes telescopic balconies, so that it can be used for many different events – from conferences and fashion shows to rock concerts and classical opera. Inside the hall, the focus was on a golden colour, to set the mood.
"This colour helps to emphasise that this is a special room for festive and joyful occasions and golden moments," says Klaus Toustrup.
In combination with stained black balcony fronts, this is a modern interpretation of a reference to the decoration of the classical old theatres and concert halls at the Royal Theatre in Copenhagen and Musikverein's famous Golden Hall in Vienna.
"A project like Odeon is quite a challenge, and there was a lot to tackle along the way," Klaus Toustrup explains about the process.
"But we're proud that we've now managed to achieve a fine result and a complex that will help to change and kick start the quarter, like a new pulse for the centre of Odense."
The Odeon project goes back to 2006, when C.F. Møller won this turnkey assignment. The financial crisis deferred this project, and over time the client constellation also changed. Together with KPC Byg, the other parties involved in the construction project are Odense Municipality as the client and user, the Danish National Academy of Music, the Danish National School of Performing Arts - Acting School in Odense, as tenants, H.C. Andersen Kongres Center A/S as operator and tenant, and Partnerskabet for omdannelsen af Thomas B. Thriges Gade.
Factbox
Client: Odense Municipality
Contractor and client: KPC-Byg
Turnkey adviser: C.F. Møller
Sub-adviser: COWI, AIX Theater Planning, Gade Mortensen Akustik
Cooperation partners: The Danish National Academy of Music, the Danish National School of Performing Arts - Acting School in Odense, H.C. Andersen Kongres Center A/S, Partnerskabet for omdannelsen af Thomas B. Thriges Gade.
Size: 32,000 m²
Construction sum: DKK 650 million 
Gallery