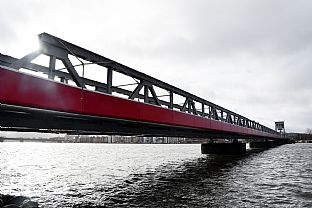 3.3.2017
Opening of Kulturbro-Aalborg on 4 March
On Saturday, 4 March, Kulturbro-Aalborg opened. This "Culture Bridge" is a new bridge across the Liim Fjord which will better interconnect Aalborg and Nørresundby for pedestrians and cyclists.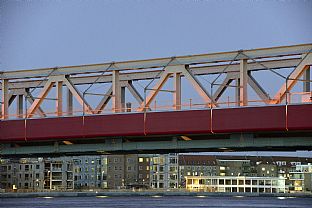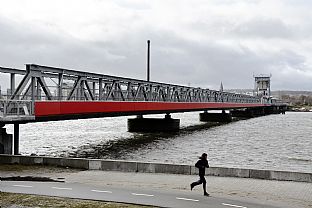 The new Kulturbro-Aalborg was delayed after a barge in June 2016 collided with the Railway Bridge, on which the Culture Bridge is installed. But now, on Saturday 4 March, Kulturbro-Aalborg has opened and both tourists and local residents, on foot and by bicycle, can cross the Liim Fjord here, and enjoy the scenery and the fjord.
Kulturbro-Aalborg is designed by firm of architects C.F. Møller, who are also behind the development of  Aalborg Harbour Front, which has received several prizes.
The Culture Bridge is 400 metres long and is designed as an elegant, lightweight structure which respects the striking Railway Bridge from 1928. It rests on the railway bridge on a point basis and is attached with a system of push and pull bars, and a shock-absorbing wire structure.
Sustainable bridge
Kulturbro-Aalborg is made from a very lightweight material comprising plastic and fibre, which is also used in e.g. wind turbines.
Despite its light weight, the material is highly resilient and is also ecofriendly. The bridge elements are designed to be easy to install and also dismantle for maintenance – to ensure optimum sustainability.
The bridge is illuminated with energy-friendly LED lighting. The light appears as one extended line in the handrails which guide pedestrians and cyclists after dusk and also make the bridge stand out as a sculptured landmark.
"We congratulate Aalborg and Nørresundby with Aalborg-Kulturbro, which we have enjoyed designing, and we hope that it will be used by many tourists and local people. Personally, I look forward to crossing the Liim Fjord in this very special way," says Søren Tortzen, head of department at C.F. Møller in Aalborg.
Inauguration from the Nørresundby side
Kulturbro-Aalborg was inaugurated at 11am on Saturday, 4 March 2017 with a speech of welcome on the Nørresundby side, where Mayor Thomas Kastrup-Larsen and Jens Toft-Nielsen, chairman of the Kulturbro-Aalborg Association, cut the ribbon. Then everyone walked or cycled to the Aalborg side, where the ribbon was also cut, followed by speeches, music and refreshments.
From 11.30am, Aalborg-Kulturbro was open for pedestrians and cyclists in both directions.
Gallery