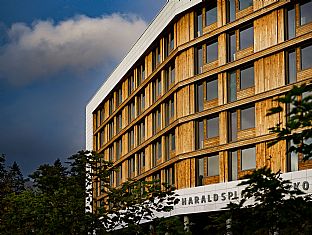 19.10.2018
Opening of hospital project in Bergen
A new extension to Haraldplass Hospital is being opened in Bergen on 23rd October. The project has been designed by C.F. Møller Architects and is characterised by two atria that deliver plenty of daylight and eliminate traditional long corridors.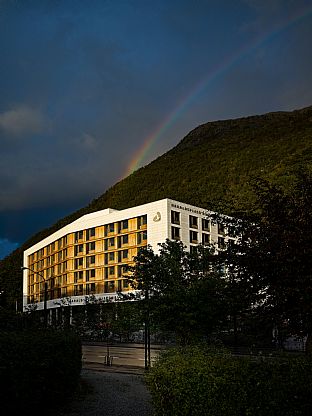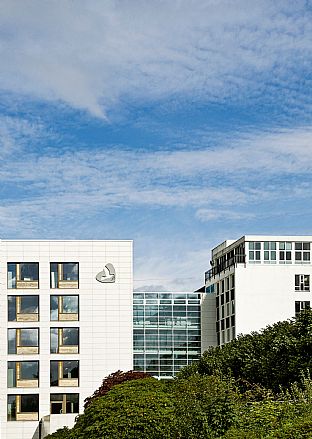 October 23rd is a day for celebration in Bergen. A new beds building for Haraldsplass Deaconess Hospital is being opened here by Prime Minister Erna Solberg, with the participation of the Health Minister Bent Høie and representatives of Haraldsplass Deaconess Hospital.

"The developer, the foundation and the old building at Haraldsplass are completely unique, and it has been an honour to continue the proud and beautiful built heritage at Haraldsplass. As architects we are absorbed in our surroundings, and research and experience show that we are affected by our surroundings. It was thus especially inspiring to work with Haraldsplass, which features distinctiveness and qualities from different periods. It is, however, the architect Per Grieg's building structure from 1940 that is the very backbone of the place," says Christian Dahle, partner and architect at C.F. Møller Architects.

Breaks with tradition
Unlike the situation in traditional hospital buildings, there are no long corridors. The wards units are situated around and along two large covered atria, which create the framework for two different communal areas: A public arrival area with a reception, café, shop and seating area, and a more private room solely for patients and their guests. The atria will ensure that daylight is drawn into the building, creating easy orientation and a good overview.

Every patient will have access to a view of the valley and the city, as the new building will follow the course of the Møllendal River, creating a curve in the façade.
"In the work on Haraldsplass we have used our experience from Akershus University Hospital in Oslo as well as two fine assignments in Bergen for Haukeland Unversity Hospital – a newly completed A&E and a laboratory building, bringing together research laboratories and laboratories for patient diagnostics," says Christian Dahle.
The new building adds 170 additional beds to A&E.

The official opening for invited guests takes place on 23rd October. October.
Respect for history
The original hospital was opened in 1940. There was room for 100 patients, sisters from the Deaconess Foundation and students at the college of nursing. A hallmark was the fact that patients had a view of the city and the fjord.

"We usually call Haraldsplass the beautiful swan at the foot of the mountain Ulriken. Many hospitals have buildings and surroundings that people find alienating. Per Grieg's architecture is precise and tight in its structure, and at the same time beautiful and friendly. Per Grieg was also one of the big, important Bergen architects who made an impression on and inspired the entire architectural environment. He got his inspiration from abroad, but was aware of his roots and his history. Just as the Deaconess Foundation came from abroad and is now rooted in Bergen," says Christian Dahle, and elaborates on the importance this has had on the approach to the work on Haraldsplass.
 
"Per Grieg's Haraldsplass is one of the most important works in his long career. We believe it is important to have respect for and understanding of the qualities of the place, and wanted to further these qualities with the new beds building. Haraldsplass is an institution that has a long history of care, and this care radiates from the place, the people working there and the buildings accommodating Haraldsplass's patients, students and staff.
Recognised for healthcare
C.F. Møller Architects is recognised worldwide for its expertise in healthcare. C.F. Møller is behind Akershus University Hospital in Oslo, the Emergency and Infectious Diseases Unit at Skåne University Hospital in Malmö and Aarhus University Hospital, which are among the most recently completed projects. C.F. Møller Architects is currently working on health buildings in Germany, England and Denmark. The hallmark of all its projects is an evidence-based approach that is also known as Healing Architecture.
Ongoing projects in Norway
In Norway C.F. Møller Architects is currently involved in two major projects, both of them in Oslo. One of the projects is Fjordporten – Nordic Light at Oslo Central station, which merges transport, work, leisure, culture and business to form a forward-looking and robust hub by combining tradition and innovation. The project has been created in collaboration with Reiulf Ramstad Arkitekter.
Right opposite this project, at Biskop Gunnerus Gate 14 B, C.F. Møller Architects is involved in another project, which is also a high-rise building and has been developed in collaboration with Kristin Jarmund Arkitekter and Urban Planners Rodeo Arkitekter. A new urban space is being established here, with a square, a hotels and high-rise buildings, creating attractive living spaces and efficient urban connections.
Biskop Gunnerus Gate 14B will be a pioneering international project as regards the environment and sustainability. The project will strengthen the area's development and clarify Oslo's ambition to make this particular part of the city better at handling a large volume of road users, at the same time as being an attractive place to live in.
Gallery