Prestigious award goes to architects Ola Jonsson and Mårten Leringe for Alviks Torn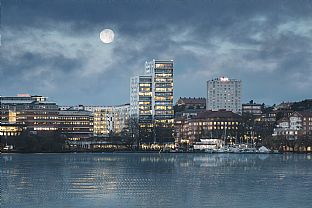 11.11.2016 | Ola Jonsson and Mårten Leringe, architects at C.F. Møller awarded the eminent 'Årets Betongarkitekt' (concrete architect of the year) for their work on Alviks Torn. The award was presented at the Concrete Gala at Berns Hotel, Stockholm.
The Alviks Torn urban quarter was completed in 2015, composed of 151 units in an angled block with 9 floors, and a landmark tower with 18 floors. The building takes its outer shape and lines from the sharp cliffs along Mälarens strand.

"Alviks Torn is an excellent example of how a strong project team can create architecture that lifts an entire urban quarter. The site is on the border between Mälarens strand and the city, which makes it possible to design buildings that provide new a level of urban living. The result is something we are very proud of," says Mårten Leringe, CEO of C.F. Møller Sverige AB.

"We are delighted to receive this recognition for work in which we wholeheartedly made use of and exploited the multiple possibilities of prefabricated concrete elements. The materiality and precision in the details that define a building's overall architecture are what makes concrete so wonderful to work with," commented Ola Jonsson, the architect responsible for the project at C.F. Møller.

The citation was:
"The Alviks Torn project succeeds in creating a sculptural landmark for the Bromma Mälarfront garden city project in Stockholm. The project is well exposed to travellers leaving the city centre towards Bromma and the Mälar islands, from Fredhälls, the Stora and Lilla Essingens beaches and of course the water.
The project comprises 151 units in a 9 floor, L-shaped urban quarter, and an 18 floor tower linked together. The apartments feature plenty of daylight and unique views over Stockholm and the Mälar landscape. The project also adds public squares, offices and restaurants to Alvik, creating a high quality urban area opening onto the water and the city. The project efficiently exploits the possibilities offered by the malleability of concrete into rich, varied and exciting shapes from every angle. The repertoire includes highly varied facades, offset windows, enclosed floors and varied balcony shapes. The concrete facade elements of polished white terrazzo and articulations also lend a light, interesting and especially harmonious appearance to the buildings. "