Prize hat trick in Aalborg for C.F. Møller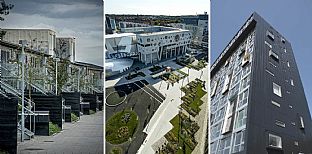 3.10.2016 | C.F. Møller receives no less than three prizes in Aalborg, to mark Architecture Day. The transformation of the Magisterparken and Sundparken residential areas, and the most recent development of Aalborg's public harbour front, the Musikkens Hus area, were all honoured with awards.
Yet again, a number of C.F. Møller's largest projects in Aalborg have received awards. The occasion was Architecture Day.

The prizewinning projects are Magisterparken in Aalborg East, which according to the selection committee features a "respectful transformation of a high and visible building"; Sundparken – also in Aalborg East – which is a "fine renovation with focus on the life just outside the homes"; and, not least, the Aalborg Harbour Front's newest area, the Musikkens Hus area, which is "an urban space which sets the stage for many different functions".

Recognised residential renovation projects
The two non-profit housing areas, Magisterparken and Sundparken, are both part of Himmerland Housing Association and have drawn a lot of attention during the past year for their successful transformation of worn-down prefabricated "crane track" buildings into open, new and attractive quarters.

"Himmerland Housing Association's renovations of Magisterparken and Sundparken have given a great boost to both residential areas' housing quality and to the quarters in general. We are proud of how the projects have been received by the residents and also that they have won so many awards," says Søren Tortzen, department manager and architect with design responsibility at C.F. Møller's Aalborg office.

Sallingsundvej was the first non-profit housing project to be named as Building of the Year, in 2015, and it subsequently won the prestigious Swedish architectural award "Architecture of Necessity" for its focus on sustainable and social solutions. The recently completed transformation of Magisterparken, with its characteristic high-rise building, has also drawn attention, and this project was among the six finalists for this year's Danish Renovate Prize.

Harbour back to the city
Aalborg Harbour Front was already known as one of Denmark's most popular harbour transformations and the latest sections, designed by C.F. Møller Landscape, have added new qualifies and opportunities which continue the idea of giving the harbour back to the city and connecting the central city quarters with the Liim Fjord.

The Central Harbour Front was inaugurated at the end of 2011, and with such awards as Aalborg Municipality's Architecture Prize, Byggesocietetets Hæderspris Det Gyldne Søm, Den Danske Lyspris and Vejprisen, has set a high standard for the further eastward development of the harbour front. This is one of the largest construction projects in Aalborg Municipality, and has been under way for many years. COWI, C.F. Møller and ÅF Lighting have continued as advisers for the Musikkens Hus area after the successful work on the central harbour front.

Behind the selection of C.F. Møller's projects is the Committee for Construction Awards in Aalborg, comprising Councillor Hans Henrik Henriksen (Chairman), City Architect Peder Baltzer Nielsen, City Council member Jens Toft-Nielsen, City Council member Kirsten Algren and City Council member Mariann Nørgaard, as well as Architect Robert Hansen (nominated by AA) and Architect Pernille Østergaard Svendsen (nominated by AA).

The awards were made on Architecture Day, Monday, 3 October 2016, at a festive event at the Utzon Centre in Aalborg.