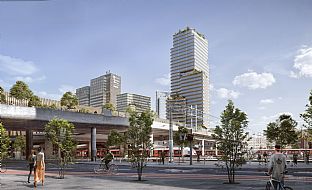 11.5.2018
Publication of plan for new urban space in Oslo
C.F. Møller Architects, Kristin Jarmund Architects and Rodeo Architects announce the plan for a new urban space with a square, hotel and high-rise building at Oslo Central Station, to create attractive recreational areas and effective urban connections. The project was developed for KLP Eiendom.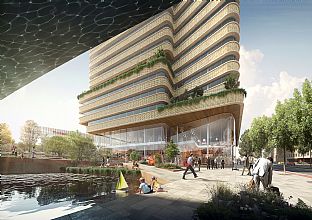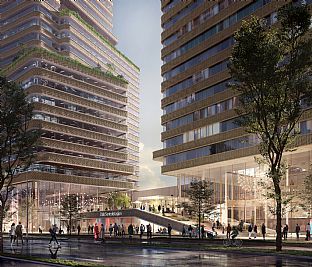 Oslo Central Station is located in the heart of central Oslo, as a transport hub between Oslo and the rest of the world. Kristin Jarmund Architects, C.F. Møller Architects and Rodeo Architects, in collaboration with Bollinger & Grohmann Engineers and Transsolar, have published a planning proposal for the address Biskop Gunnerus gate 14B at the Central Station for KLP Eiendom. The project is a further development of a winning proposal, developed by Kristin Jarmund Architects and C.F. Møller Architects, in a prequalified architectural competition in 2009.
Ambitions
The project proposal optimises the urban plan by interconnecting different areas and terrain differences, and is also organised to support a good and efficient flow. Biskop Gunnerus gate 14B must thus serve as an urban life generator and driving force for the area's development and highlight Oslo's ambition to make this particular part of the city better at handling many transport users, while also being an attractive place to visit. Based on the site's location between the Oslo Central Station traffic hub and the districts of Grønland and Vaterland, the project underlines the meeting between the special characteristics and qualities of the three areas. KLP Eiendom's ambition is also for Biskop Gunnerus gate 14B to be a pioneering international project when it comes to the environment and sustainability.
New public urban space
Today, existing buildings account for 100% of the site's area, but with the new plan more than 50% of the area will be used as a publicly accessible urban space. A cohesive new ground level will be established as a continuous landscape element that also connects the area with the green path along the river Akerselva, where the water is highlighted as an experience element. The cohesive terrain eliminates level differences and establishes new connections, with an effective flow between Schweigaards gate, a bus terminal and Nylandsbroen.
Roof gardens and vantage points growing out of the landscape
The project consists of two building volumes, standing on a common base with a square. The western building will primarily house a hotel, while the eastern building will mainly be devoted to offices. The building blocks are broken down into several smaller volumes which, with their scale and proportions, are together reminiscent of the Oslo silhouette. The project appears to emerge from the ground, with green terracing that lifts the green urban space along the Akerselva up across the city landscape. The various terrace rings are used for roof gardens and vantage points and to promote life on the inside of the buildings through large window apertures, which also reveal the city's high points in the urban landscape.