Shortlisted for New School at Islands Brygge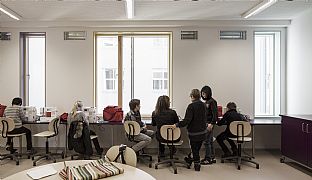 12.10.2016 | C.F. Møller and Third Nature, together with turnkey contractor MT Højgaard, are to design a proposal for a coming seven-track school at Islands Brygge in Copenhagen. The school will replace the present Islands Brygge School, expanding it into a seven-track school.
The City of Copenhagen is to establish a new, seven-track school at Islands Brygge. C.F. Møller and Third Nature are advisers to MT Højgaard, which has been prequalified for the turnkey contract competition. The school will be established at Artillerivej, where existing buildings will be demolished to make room for new construction.
The new school at Artillerivej will be established with the vision to be a special-theme school for healthy food, at an exciting location between the harbour and Amager Fælled. This project thus has great potential to realise the vision of creating a venue for sensory flavour, play and learning.

Strengthening the quarter
The school at Islands Brygge is expected to have a total area of 10,000 m2, with an outdoor area of 4,000 m2. The actual building complex will include basic and specialised areas, kitchen and canteen, administration, staff facilities and a sports hall. Outdoors, the focus will be on areas that stimulate activity and recreational opportunities, with practical facilities such as an arrival area and bicycle and vehicle parking.
Islands Brygge has undergone major transformation over the last many years. This includes a number of industrial areas that have been converted into residential areas, increasing the need for school capacity. The new building complex at Artillerivej 126 will be Islands Brygge School's new school building for the upper grades (lower secondary level), while the existing school at Artillerivej 57 will concurrently be renovated. Overall, Islands Brygge School, although situated at two different geographical locations, will function as one school under one administration. The new building will make it possible for the school to have seven tracks from 0th to 9th grade at Artillerivej.

Emphasising community
The new lower secondary school must be an inspiring school for ever pupil, reflecting the opportunities to use the flexibility of new construction to create both indoor and outdoor play and learning environments. The school must adhere to the City of Copenhagen's basic values of community, joy, mastery, confidence and respect. It must still be possible to engage in play in lower secondary school, creating an environment in which it is "cool to play".
"Communities and building social relations are always key parameters for primary and lower secondary schools. At a school with as many pupils as the new Islands Brygge School the small community as part of a larger entity will be particularly important to the individual pupil," says Aase Hammer, head of Islands Brygge School.
"The physical setting must therefore create a basis for small communities to develop in the home areas, and be carried into the overall school environment," she says. MT Højgaard with C.F. Møller, Third Nature and the consultant Autens Future Schools will be competing against four other turnkey contractor teams, fronted by BAM Danmark, NCC, Aarsleff and Enemærke & Petersen, respectively.