Stenfisker Quay CONSTRUCTION STARTS IN ODENSE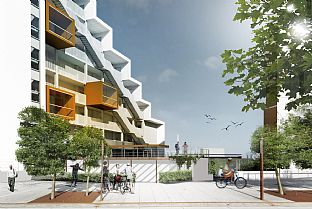 31.3.2016 | C.F. Møller has designed 178 new public housing units for young people, and these new homes are now rising up adjacent to the coming new harbour swimming baths in Odense's inner harbour.
Soon, new housing units for young people will be taking shape in Odense's inner harbour.

On 31 March, the groundbreaking ceremony was held for the new project at Stenfisker Quay, undertaken by C.F. Møller together with turnkey contractor KPC and the engineering firm, Midtconsult. The project's client is Civica, a public housing company.

"This construction project is an important strategic element of the renewal and transformation of our harbour, turning it into a lively and vibrant quarter. This will be the quarter's meeting place, where everyday users, residents and future visitors will meet on a day-to-day basis. There will be plenty of life around the harbour swimming baths and in the actual harbour square. Bringing more people and residents down here will help to ensure further development," says Jane Jegind, town and cultural councillor at Odense Municipality, who turned the first sod for the new youth housing project.


Activating the harbour
The youth housing units are the latest housing project to appear in Odense's harbour area. For many months, the Stenfisker Quay has stood empty and been used as a storage area during the construction of Odense's new harbour swimming baths.

"The Stenfisker Quay of the future will help to ensure that the right framework is in place to generate active life in the inner harbour," says C.F. Møller partner Klaus Toustrup.

"With its unique location, the project will make optimum use of the square in the harbour area in terms of sunlight and outlook, and will also create good recreational outdoor and public areas, promoting a strong sense of community here," he says.

Ready in 2017
The new homes cover an area of around 8,000 sq.m. and are being constructed as timber structures from three to eight storeys, with special architectural solutions such as recessed bay windows, balconies and innovative interior design. The homes will range from 38 to 50 sq.m. and will have their own kitchenettes, toilets and showers.

The first two buildings will be completed in the autumn of 2017, while the third and last building will be ready at the start of 2018. Jane Jegind is certain that once Stenfisker Quay is completed, the quarter will be a fantastic new feature of Odense.

"We're creating a new quarter that is full of diversity. It will not only be populated with students and young people, but also families, senior citizens and the elderly. So we're convinced that we'll achieve a diverse urban setting that is full of life, happiness and optimism."

C.F. Møller has already undertaken a large number of Denmark's striking new youth housing projects: In Odense, in 2015 the architectural practice completed the striking Campus halls of residence at the University of Southern Denmark, and for Himmerland Housing Association, C.F. Møller has received a lot of praise for the youth housing units at Henius House in Aalborg. In 2015, this project was awarded the Concrete Element Prize and the Utzon Statuette, as well as Aalborg Municipality's architectural award.