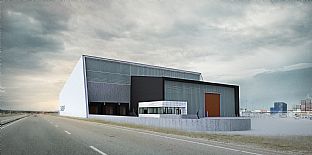 4.5.2016
TOPPING OUT OF NEW WAREHOUSE
On Tuesday, 3 May, the topping out ceremony was held for the Port of Aarhus' new C.F. Møller-designed warehouse for the Samskip shipping company.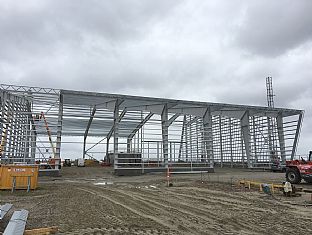 Samskip is one of the lessees in the Port of Aarhus' new port centre, also designed by C.F. Møller. The new warehouse lies adjacent to both the Port centre and the container terminal – and is highly visible from the new Østhavnvej, which will also serve the coming new ferry terminal at Østhavnen. The 2,200 m² project will be the first in a series of new warehouses at Østhavnen, as a new type of warehouse created to easily accommodate future expansion, and with reference to the Port's other warehouses. The building is created as a streamlined steel structure, with an exceptionally high number of pillar-free spans exceeding 50 metres, and the asymmetrical façade is the result of different requirements on the building's terminal side and land side, respectively.
Connection to the Port Centre
Using light metallic surfaces, translucent duct plastic sections and perforated fibre cement slabs, the materials used in the warehouse match the architectural expression of the Port of Aarhus' new Port Centre. The warehouse also has orange gates, as a reference to other C.F. Møller warehouses at the Port of Aarhus. "Even though many of today's processes are more automated, the ports are still people's workplaces, and the working environment, daylight and architecture are significant – even in warehouse halls," explains Julian Weyer, architect and partner in C.F. Møller. The project's client is the Port of Aarhus, which leases to the Samskip shipping company, and C.F. Møller has been responsible for the architecture, together with Ingeniørgruppen Varde. The construction work is being undertaken as a turnkey contract by NCC, and on its completion in September, the Samskip shipping company will be able to handle significantly higher cargo volumes than today.