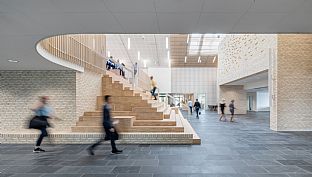 9.8.2019
The Heart in Ikast wins Iconic Award
The Heart in Ikast combines education, activities, community, exercise and recreational pursuits in new ways and for this it receives an Iconic Award 2019: Innovative Architecture.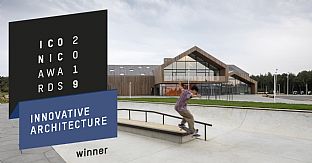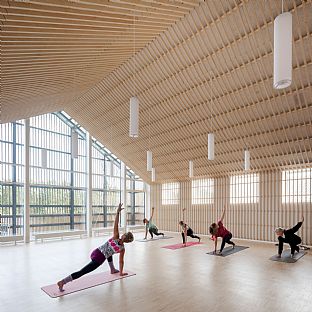 Visionary architecture. Innovative products. Sustainable communication. The ICONIC AWARDS: Innovative Architecture honour the best of the best. Our internationally respected, impartial design and architecture competition honours holistic projects in the fields of architecture, interior architecture, product design and brand communication, it is stated by the organisation behind the Iconic Awards.
'We are vey pleased to receive this award for The Heart in Ikast. We consider this project as a perfect example of our integrated design approach and holistic thinking meaning great concern of interaction between buildings and their surroundings and various groups of people', says Julian Weyer, architect and partner at C.F. Møller Architects.
'The Heart in Ikast'
'The Heart' in Ikast is a new meeting point centred round culture and communication and an expansion of the International School Ikast-Brande. The expansion is a meeting point where relationships between various societal and age groups can be formed and maintained. The buildings and outdoor areas are created to promote inclusive and integrative social and cultural meetings and gatherings.
The expansion has sports halls with multi-functional and educational facilities, economic work opportunities including, for example cafés and office facilities.
The project makes the educational facilities at the school even better, and at the same time create a new meeting point centred around an area of fast growth in Ikast. The 'Heart' is surrounded by a band of activities with a rich multitude for the community, exercise and recreational pursuits.
Score Iconic Awards hattrick
This year's award marks the third year in a row where C.F. Møller Architects receive an Iconic Award. In 2018 the practice was awarded for the Maersk Tower, a new research complex in Copenhagen and in 2017 it was awarded for the Copenhagen International School, which many people recognise for its solar panel façade.
Gallery