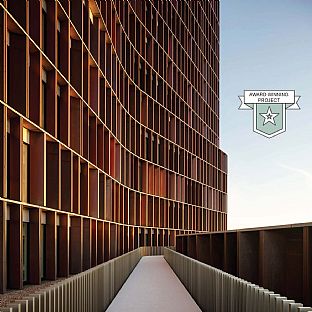 24.11.2017
The Maersk Tower awarded for its innovative facade
The Maersk Tower by C.F. Møller Architects wins the European Copper in Architecture Award 2017 for the tower's innovative and sculptural facade.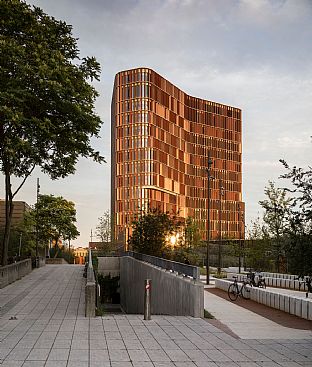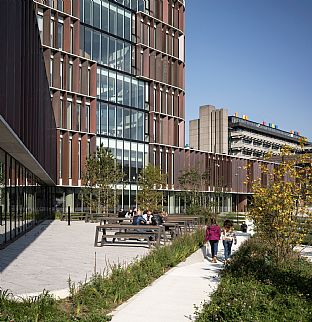 European Copper in Architecture Awards is a biennial showcase celebrating architectural design of buildings incorporating copper or copper alloy cladding, roofing or other architectural elements. A unanimous judges' panel chose the Maersk Tower as a clear winner.
- A major landmark building prominent on Copenhagen's skyline, it nonetheless delivers on many other levels as well. The conceptual development of its complex programme offers a fresh, more openly interactive research building typology. Its response to the urban context is impressive with a gentle curved form making it slim and elegant. And its qualities extend to exceptional detailing throughout and the innovative use of gently animated copper facades that define the building, states the judges panel.
The Maersk Tower is an extension of Panum, the University of Copenhagen's Faculty of Health and Medical Sciences, and includes both research and educational facilities, as well as a conference centre with auditoriums and meeting rooms, which are connected to the latest technology.
World-class research through interaction
To create architecture for world-class health research, it is important to design a venue with many opportunities to meet – both across different professional groups and across the public domain and the research community. This will help to disseminate the research activities, leading to knowledge sharing and inspiration for new and groundbreaking research.
The Maersk Tower is bound together both horizontally and vertically by an open atrium, in which a continuous sculptural spiral staircase both visually and physically connects the 15 floors. Close to the staircase on each floor there is an open and inviting "Science Plaza", which serves as a natural meeting place and communal space for the many employees. Incisions in the façade's copper shutters reveal the spiral staircase and research squares from the outside, which, together with the open base, ensures visibility for the activities in the Tower.
Innovative copper facade
The Maersk Tower's façade is divided into a grid structure of storey-high copper-covered shutters. The shutters serve as a climate shield, which adjusts as required to protect from direct sunlight and over-heating. The shutters also give the façade a deep relief effect and reduce the tower's large-scale appearance.
The Maersk Tower has Denmark's most energy-efficient laboratories, where waste energy is reused to an extent never seen before. Combined with the façade's climate shields, this makes the building a pioneer within energy-efficient laboratory construction.
Second award in a week
Last week the Maersk Tower won an award as the world's best research building at the World Architecture Festival in Berlin where the tower was awarded in the category 'Best Higher Education and Research Building'. This means the European Copper in Architecture Award 2017 is the second award in a week that has been given to the Maersk Tower.
Gallery