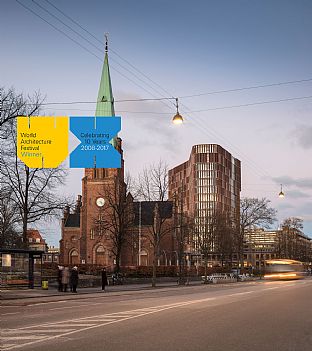 17.11.2017
The Maersk Tower wins award at the World Architecture Festival
C.F. Møller Architects has been announced as the winner in the category Higher Education & Research with the just completed Maersk Tower in Copenhagen.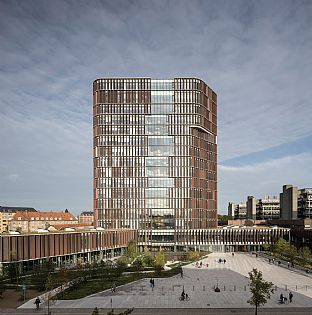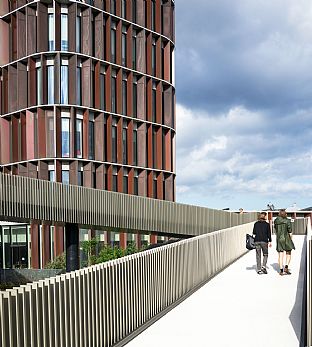 The Maersk Tower is a state-of-the-art research complex in the heart of Copenhagen. The architecture of the Maersk Tower is based on an idea of creating communities – between researchers, students and the city. The Maersk Tower – with its 3,000 copper shutters and relief-like expression, state-of-the-art research facilities and inviting campus park - serves to open the university towards the local area in a beautifully designed and varied green campus park.
Like a tree, the tower rests on a star-shaped base consisting of four buildings. These buildings, which in terms of function support the research conducted in the tower, house the canteen, auditoriums and common rooms. The buildings are integrated with the landscape and roads of the local area, creating a new connection and shortcut between the streets Nørre Allé and Blegdamsvej in Nørrebro, Copenhagen.

Innovative and cooling façade
The façade is fitted with 3,300 copper shutters giving the building a relief-like expression. A third of the shutters are made of transparent expanded metal and move in accordance with the sun. The expression of the façade therefore changes during the day, reducing the energy consumption for cooling by protecting the building from heat from the sun.

Floating walkway
A unique part of the campus park is the 'floating walkway' that zigzags above parts of the Maersk Tower and connects Nørre Allé and Blegdamsvej. The walkway offers a chance to get close to the building and life at the university and thus get a new experience of both the building and the local area – between towers and trees. The 300 metres long path climbs to tree top level, giving walkers and cyclists a unique view of the local area.

Sustainable pioneer
The Maersk Tower is the most energy efficient laboratory build¬ing in Denmark to-date, via a multi-tiered strategy which includes recycling waste energy from ventilation systems, heating secondary spaces with surplus heat from primary uses, additionally using local district heating and (seawater-based) district cooling as well as photovoltaic generation, resulting in a maximum primary energy requirement of just over 40 kWh/m².
The Maersk Tower is designed by C.F. Møller Architects. The campus park is designed by SLA. The Danish Building and Property Agency is the client and owner of the building, on behalf of the Danish State. Maersk Tower was made possible by a generous donation from A.P. Møller og Hustru Chastine Mc-Kinney Møllers Fond til almene Formaal (The A.P. Møller Foundation) and a special appropriation from the Folketing (Parliament).
Gallery