23.5.2018
The Stork Meadow nominated as one of Denmark's best climate solutions
Realdania and Sustainia published Klima100 today, a catalogue of 100 of the best climate solutions from municipalities across the country. The publication is designed to increase knowledge sharing and the process of green transition within the municipalities, and the Storkengen project by C.F. Møller Landscape is among the selected projects.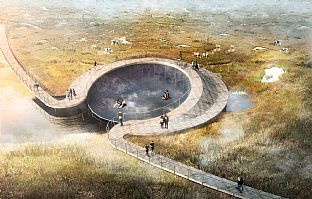 100 of the best climate solutions from 80 Danish municipalities are presented in Klima100, a publication released 23 May. Klima100 is funded by Realdania and was compiled by Sustainia. C.F. Møller Landscape is represented with its climate project Storkeenge, developed in cooperation with Orbicon, Vandmiljø Randers.

Storkeengen - climate protection with added value
The Storkeengen meadow is at Vorup near Randers, and is intended to tackle the district's current and future climate challenges by transforming the site into a public nature park. Using climate change adaptation, the park will also bring the unique natural delta along the River Gudenå closer to the centre of Randers and its residents.
Storkeengen will mean that climate protection will not only help to deal with increased water levels, but also add value to the area. This will be achieved by combining visible wastewater solutions with areas designated for recreational activity and nature dissemination, increasing the area's accessibility and nature right into the heart of Randers.
Selection procedures
The 100 projects for Klima100 were assessed and selected by Sustainia using a points system based on seven criteria:
1. Climate effect: The project's expected or proven reduction in greenhouse gases and/or contribution to climate protection.
2. Added value: Whether the project has helped to improve anything other than climate-related issues, as defined by the UN's Sustainable Development Goals.
3. Innovation: To what extent does the project exhibit a new or pioneering approach to solving climate challenges?
4. Cooperation: To what extent is good collaboration demonstrated between those involved in the project, e.g. between municipal services and boundaries?
5. Public involvement: To what extent does the project involve the public in its development and implementation?
6. Scalability: To what degree is the project designed to be potentially scaled and duplicated elsewhere and in other municipalities?
7. Knowledge sharing: To what extent is project experience shared (or planned to be shared) across municipal services, boundaries or internationally?