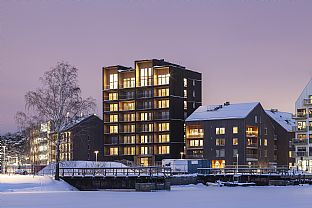 26.2.2019
The first residents move into Sweden's tallest timber building
C.F. Møller Architects is behind Sweden's tallest timber building, which is now accepting its first tenants. The building is made of solid timber, and is situated in Västerås, an hour from Stockholm, as a landmark for the area and a benchmark for a sustainable future.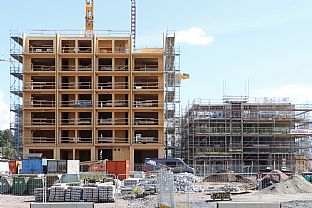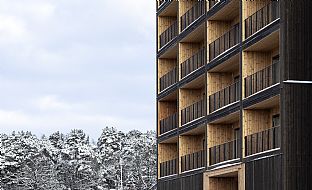 Timber construction means sustainability, at least according to C.F. Møller Architects. In recent years the Scandinavian-based architectural company has focused on the use of timber in construction, as this can create huge CO2 savings. Buildings made of timber also have a positive effect on the indoor climate and the people living in the buildings.  This is something to be welcomed by the first residents and the rest of us who are now starting to move into Sweden's hitherto tallest solid-timber building.

Sweden's tallest timber building
The building is situated in the Kajstaden district of Västerås, an hour's drive from Stockholm, with beautiful views of Lake Mälaren. Kajstaden Tower is 8.5 storeys high, with an elevated ground floor and a double height top floor. All parts of the building, i.e. walls, beams, balconies, lifts and stairwells, are made of cross-laminated timber. The building was developed in close collaboration with Martinsons, Bjerking and Consto AB, with Slättö Förvaltning as the client.

"The building in Kajstaden constitutes a new chapter in the history of construction, as it is currently Sweden's tallest solid-timber building. Through research projects and our other timber projects we have focused on innovation and contributed towards developing ways of realising high-rise buildings made of timber. Industrial timber technology also provides architects with better tools for designing beautiful houses that boast a high degree of detail," says Ola Jonsson, associate partner at C.F. Møller Architects
Timber has a number of advantages
The advantages include the fact that timber is a renewable raw material, and the fact that buildings made of solid timber have very low energy and carbon footprints. Use of CNC-milled solid timber and glulam constitutes a high-precision technology and provides an airtight – and thus energy-efficient – building without adding other materials to the walls. The low weight of timber also means fewer deliveries to the construction site and thus a safer, quieter and more efficient working environment during construction.

In the building in Kajstaden there are four flats on each floor, and each floor has taken three craftsmen an average of three days to put together. Mechanical joints and screws have been used, which means that the building can later be taken apart and the materials can be reused.

"Wood technology facilitates a value-adding lifecycle perspective in all stages of construction and is crucial to the goal of a bio-based circular economy. The total carbon-dioxide savings from use of solid wood instead of concrete are estimated at 550 tonnes of CO2 over the building's life," says Rob Marsh, sustainability manager at C.F. Møller Architects

Timber is part of a sustainable future
C.F. Møller Architects is currently engaged in construction projects across a total area of 100,000 m2 with a focus on the use of solid timber in Sweden and the UK, and hopes to be able to help push the construction industry in a more sustainable direction by realising these projects as good examples and sharing its knowledge of building with timber.

"We're delighted that more and more timber buildings are to be built. It's the total critical mass of sustainable buildings in our towns and cities that will be crucial to the attainment of a positive impact on our planet. C.F. Møller hopes to be an important contributor to the development of timber construction and is involved in various development projects and networks in the field of sustainable construction in Scandinavia and internationally, its aim being to share its knowledge and what it has learnt from its colleagues," says Ola Jonsson.
Increased focus on building with timber
One of the networks of which C.F. Møller Architects is part is the Nordic Network for Tall Wood Buildings, which seeks to disseminate knowledge of how wood can be used for construction and its sustainability features. The network is headed by Dane, Peter Fynholm, who is also deputy director of the Danish Technological Institute,

"We're currently experiencing a greater focus on building with timber than ever before, but whilst blocks of flats are currently being built in timber in the Nordic countries and worldwide, when it comes to tall buildings, timber is far from being the natural choice within the construction industry. It's annoying, as there's untapped potential in the use of a renewable resource in an industry that affects the climate as much as the construction industry does," says Peter Fynholm, and he continues:

 "It's not, however, an easy task getting the industry to adopt and understand the new opportunities that timber presents. It's therefore crucial that we learn from our experiences, e.g. what we've learnt from Kajstaden in Västerås. We can thereby continue to build on our experiences. One of our reasons for establishing the Nordic Network for Tall Wood Buildings is to facilitate this exchange of experiences," says Peder Fynholm.
About solid Timber
A solid-timber building is a building made of timber. The timber used is typically cross-laminated timber (CLT).
Gallery