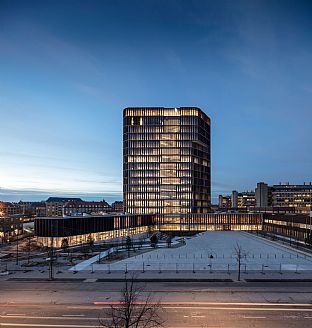 12.1.2017
The opening of Maersk Tower marks a new era in Danish health and medical research
On 18 January 2017, when Maersk Tower is officially inaugurated, a new chapter will open in the history of the Faculty of Health and Medical Sciences at the University of Copenhagen. With its pioneering architecture, modern research facilities and innovative design, the 15-storey tower will play a vital role in future health and medical research – and education.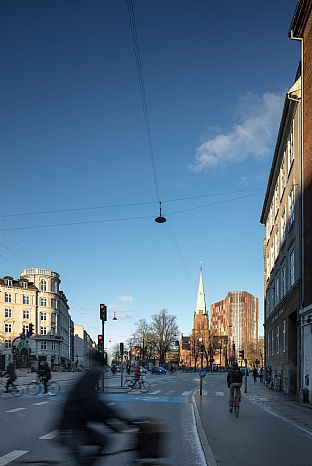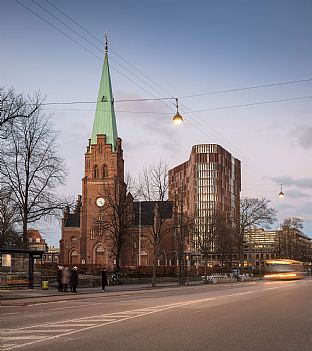 The University of Copenhagen will gain 42,700 new square metres when 75-metre Maersk Tower opens its doors for the first time. With its innovative architecture, the striking copper tower will become an important hub for Danish health and medical research, and its modern new teaching facilities will give new life to the student environment at SUND (HEALTH).
"The inauguration of Maersk Tower is a milestone for health and medical sciences research at the University of Copenhagen. The new tower will enable our researchers to create new knowledge using highly-specialised laboratory facilities, and our students will benefit from hypermodern auditoriums and communal areas. Maersk Tower will create the best conditions for research and education at top international level, and will also be of decisive importance to people's health in the future," says Dean Ulla Wewer from the Faculty of Health and Medical Sciences at the University of Copenhagen.
A building for every aspect of research
 A key idea behind Maersk Tower's architecture is to give researchers and students the best possible basis to create and gain new knowledge. The focus is on an open framework that encourages dialogue and cross-disciplinary cooperation. In the building's core structure, all storeys include a research plaza, which serves as a social gathering point, where different professional groups can meet to exchange ideas. Another key objective has been to create ultra-modern laboratory facilities, so that research can be based on the latest technologies and the most up-to-date solutions.
"Maersk Tower's open interconnection of the storeys breaks with the traditional laboratory layout, which is typically limited to horizontal plan designs, and thereby presents a forward-looking way of organising research. The primary aim has been to create a borderless, flexible and stimulating research fellowship across institutes, departments and external partners. At the same time, the external aim of the architecture has been to create a sustainable landmark, in dialogue with the city and university in a new and open way," says Mads Mandrup Hansen, partner and architect at C.F. Møller.
Most of Maersk Tower is devoted to advanced research. The building is therefore designed to be completely stable. The building's core is cast in situ, so that the vibrations from the city's life do not disturb research. The building is also one of Denmark's most energy-efficient laboratory buildings, and reuses waste energy, with climate-friendly remote cooling, reuse of rainwater for sanitary purposes and irrigation, and the establishment of 1,500-m2 solar cells.
"The inauguration of Maersk Tower is a big day for the Danish Building and Property Agency. We are close to completion of one of our largest construction projects to date, and soon researchers and students will be able to move into the tower and the related base buildings. This construction project has taken six years since the international project competition in 2010. The construction site was established i 2012, and the concrete carcass and façade were erected in 2013 and 2014, respectively. The building is constructed in low-energy class 15 and is packed with modern technology to supply electricity, water, heating and ventilation, and to facilitate the building's many laboratories. We look forward to handing over the building to the University of Copenhagen, so that the many researchers and students can enjoy this fantastic new venue," says Gyrithe Saltorp, Director of the Danish Building and Property Agency.
About Maersk Tower
Maersk Tower is the University of Copenhagen's modern new research tower. Its 15 storeys house the best possible facilities for research and teaching of the health and medical sciences. The building is designed by C.F. Møller and its sculptural, architectural expression makes it a new landmark in Copenhagen Science City. The design of Maersk Tower's structure, technical installations and other engineering work was undertaken by Rambøll. Around Maersk Tower, a new public campus park will be established, offering outdoor study and recreation spaces for researchers and students, as well as new green nature settings for all the residents of Nørrebro. The campus park is designed by SLA. The Danish Building and Property Agency is the client and owner of the building, on behalf of the Danish State. Maersk Tower was made possible by a generous donation from A.P. Møller og Hustru Chastine Mc-Kinney Møllers Fond til almene Formaal (The A.P. Møller Foundation) and a special appropriation from the Folketing (Parliament). The official inauguration will take place on Wednesday, 18 January 2017, attended by Her Majesty Queen Margrethe. 
Gallery