Topping-out of Nordre Havnepromenade in Nørresundby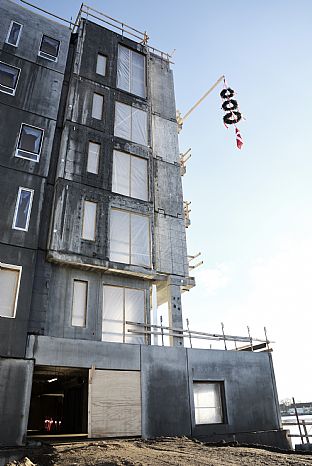 16.11.2016 | Water on three sides and a fantastic view are even closer to being achieved after Monday's topping-out at Nordre Havnepromenade close to the Liim Fjord. The project is designed by C.F. Møller, who are also behind the development of the prize-winning harbour front and a number of other major projects in Aalborg.
Nordhavnen is a new residential area, close to the port, in Nørresundby on the sunny side of the Liim Fjord – just on the other side of the Liim Fjord Bridge which connects Aalborg and Nørresundby. The project includes homes for young people, besides modern family flats, which together create a versatile recreational space close to the old industrial port, with playing fields, a promenade, and seating and fishing opportunities.
Now this project had taken a great leap forward with the topping-out on Monday, 14 November. During this event, when the weather supported the good location and fantastic views, CEO Carsten Raundahl from Raundahl Moesby welcomed all potential buyers, consultants and project officers, and gave a speech to those present.

Unique location requiring special architecture
In his speech, Carsten Raundahl emphasised how the residential project's unique location close to the Liim Fjord has required special architectural solutions developed in close cooperation with C.F. Møller. This is in order to do justice to the location, and also because the structural elements have been an exciting challenge for both the advisers and the craftsmen at the construction site.
"The construction project's location on the pier, with the Liim Fjord on three sides, has been an exciting challenge requiring unique structural solutions, for the project to succeed. For the craftsmen, this has been an exciting project in which they had to handle tasks that many of them may not have tackled before, and may not do so again," said Carsten Raundal in his speech, which ended with three cheers for NHP.
In keeping with tradition, hot dogs, beer and soft drinks were served from a hot-dog stand at the site, followed by a guided tour for everyone, led by project developer and director Torben Nielsen, TN Udvikling. Everyone that had already purchased a flat had a chance to view their new property, and the view from it.
Especially the striking views made a fine impression on a wonderful day. Anyone in doubt about buying a flat came a step closer to a decision when they saw the flats with an almost 360-degree panoramic view of the Liim Fjord and Aalborg's skyline.

Daylight and matched to the location
C.F. Møller is known for giving priority to plenty of daylight and the Nordre Havnepromenade project is no exception. Large panorama windows and bright living rooms ensure fine views and good and airy flats, which all have balconies or terraces. There are 45 owner-occupied flats in total, in an east-west long building, flanked by two housing towers with a total of 102 homes for young people. Both must be seen as homage to the port's historical narrow building profiles with cranes, silos and smokestacks.
"We're inspired by the port's history and besides the two towers with homes for young people, we have divided the long building with family homes into vertical tower-like elements, to create a slim, high and varied profile towards the fjord. The building will be of brick, as well as zinc-covered façades, to give a robust façade, reminiscent of the port's old warehouse buildings," says Søren Tortzen from C.F. Møller.

As an overall architectural measure, all buildings are placed on an elevated foundation – a plinth – to protect from flooding and to create space for a number of different squares. The plinth has stairways, seated steps and vegetation with hardy grass species, as well as trees, which overall gives varied walkways, zones and recreational spaces.

The clients for the project are Raundahl Moesby, TN Udvikling and Nørresundby Boligselskab.