Two C.F. Møller projects nominated for the Renover Prize 2016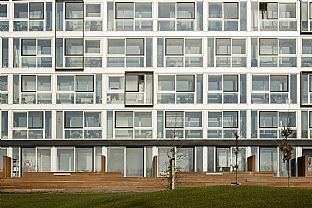 27.6.2016 | Ringkøbing Swimming Baths and the renovation of Magisterparken in Aalborg have both been nominated among six projects to receive the prestigious Renover Prize.
C.F. Møller is behind two out of six of the year's projects nominated for the Renover Prize 2016.

This was plain after the nomination committee's chairman, Gøsta Knudsen, on Friday published the few projects that have now been selected to receive the prestigious prize. A total of 179 projects were nominated for the prize.

"With its combined approach to architecture, energy and social initiatives, in a distinguished way Magisterparken shows the way to a public housing sector with interesting homes and a better image," is the motivation for including Magisterparken among the six selected projects.

"This is confirmation that all of our efforts have borne fruit. I'm very proud of this," says Elin Torp Jensen, chair of the residents association in Magisterparken, about this nomination.

A richer experience
In Western Jutland, one of the Danish swimming baths from the 1970s has been upgraded, and Ringkøbing Swimming Baths' two pools have become flexible aquatic activity areas of different depths and quality, with unique views of Ringkøbing Fjord.

"This renovation has expanded the number of users significantly," the nomination of Ringkøbing Swimming Baths states.

"Now, there is space for aquatic games and more robust physical exercise, with numerous opportunities to make a trip to the swimming baths a new and richer experience for guests of all ages."

The renovation of Ringkøbing Swimming Baths has also given space for two saunas and a Turkish hammam, offering relaxation and massage. An inserted storey serves as a multi-hall which includes a fitness centre, there are heated pools for the youngest users, and the aquatic facilities have been made extra accessible to the physically impaired.

Ringkøbing Swimming Baths were designed in collaboration between Lokale- og Anlægsfonden, Ringkøbing-Skjern Municipality, C.F. Møller as architect and Bascon as turnkey adviser, while Magisterparken is a collaboration between Himmerland Boligforening, C.F. Møller, C.F. Møller Landscape and MOE.