C.F. Møller wins Oscar for best hospital construction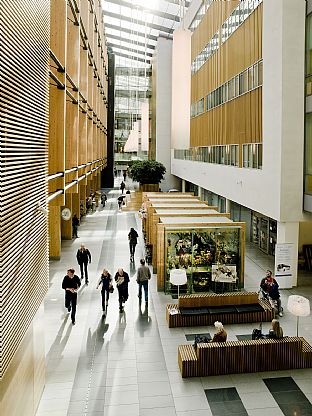 4.8.2015 | The Akershus University Hospital has been honoured with the title as the world's best health project over 40,000 m² at the 2015 Design & Health International Academy Awards.

C.F. Møller's Norwegian hospital design with the extension, conversion and new building of the Akershus University Hospital in Oslo has set new standards for what one would expect of major healthcare buildings.

This was the conclusion by one of the world's leading interest groups on health, welfare and the interaction between research, design, architecture and industry – the International Academy for Design & Health – when the Oscars for best health buildings worldwide were awarded this July at the Design & Health World Congress & Exhibition in Hong Kong.

The healthcare design industry's answer to an Oscar statuette was awarded to C.F. Møller in the event's most important category: International health buildings over 40,000 m².

Centred on the patient
The statuette is given to "an outstanding healthcare building" where patient-centred considerations are as evident as clinical and managerial priorities.

According to the International Design & Health Academy, the Akershus University Hospital demonstrates a clear understanding of the principles of salutogenesis or healing architecture, and shows how innovative design permits ongoing flexibility of use and addresses issues of sustainability.

A global benchmark
The Akershus University Hospital in Oslo continues to be one of the world's top benchmark projects for quality in healthcare design, and C.F. Møller's design acts as an almost inevitable study object prior to the planning of new large-scale healthcare projects.

The combination of high-tech solutions and efficiency with a warm and friendly atmosphere is part of what impresses international visitors most, and they also point out the consequent use of daylight and the overview and easy wayfinding provided by the inner street space as a major inspiration which subsequently becomes included in the tenders for their own hospital projects.

The Akershus University Hospital previously has won awards like the Building Better Healthcare Award - Best International Design, and is continuously found on lists that celebrate most outstanding examples of modern hospital design such as the World's 8 Most Architecturally Beautiful Hospitals by Healthcare Global magazine, as well as a place on the list of the 25 Most Amazing Modern Hospitals in the World by the website BMSN.

The 2015 Design & Health International Academy Award was awarded by a jury of Austrian Albert Wimmer of Wimmer Architects, Mario Corea from Spanish Corea Architects and Nadia Tobia from Canadian Tobia Architects. Teva Hesse, Head of C.F. Møller's London Branch, received the award on behalf of C.F. Møller Architects.
See more about the Akershus University Hospital
Read more at the IADH website