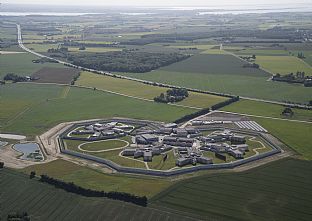 26.9.2017
Inauguration of Denmark's new state prison
Denmark's new state prison, Storstrøm Fængsel, will be inaugurated on Wednesday, 27 September. Designed by C.F. Møller Architects, the prison combines extremely high levels of security with humane surroundings, focuses on resocialisation through architecture and is also a pleasant, state-of-the-art workplace for employees.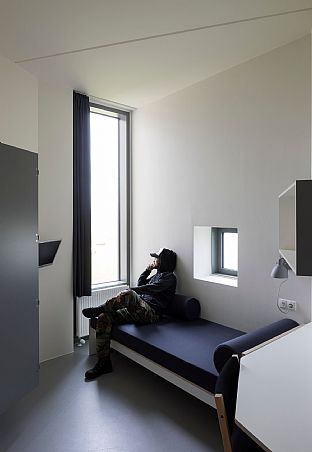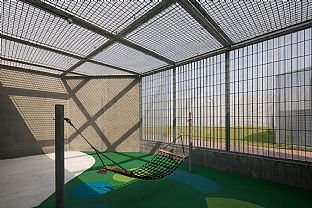 Located on Northern Falster, Storstrøm Fængsel is set to become the world's most humane high-security facility. While the prison will be one of the most secure prisons in Denmark, it will also have concomitant focus on rehabilitation.
"The overall architectural intent is to create a facility that echoes the structure and scale of a small provincial community. The result is architecture that stimulates inmates' desire and capacity to rejoin society after serving a prison sentence. The architecture also creates a pleasant and safe environment for prison staff and blends seamlessly into the surrounding environment on Lolland-Falster in Denmark", says Mads M. Hansen, the architect and partner responsible for the prison project at C.F. Møller Architects.

The prison accommodates 250 inmates in four standard prison wings and a maximum security wing. There is also a visitors' unit, activity building, workshop building, gate building and staff building. The ten buildings cover overall floor space of approximately 35,000 m².

Innovative cell design with plenty of daylight
Daylight is known to be important for well-being. Each cell has daylight ingress from two sides and views of the surrounding countryside within the perimeter wall. There is a small window on one side and a large window spanning full cell height on the other. The cell is innovatively designed with a curved wall in visual contrast to the otherwise angular expression that allows prison staff to scan most of the cell from the door.
"I dare to claim that our focus on optimising daylight, space and security through architecture has already set a new standard for prison cell design. When I describe this prison at conferences across the globe, architects and prison staff are amazed", says Mads Mandrup Hansen.
The cells measure about 13 m² and form residential units consisting of four to seven cells clustered to form a social community with access to a sitting room and communal kitchen. Prisoners can cook for themselves and are essentially free to determine whether they wish to cook with others or on their own.

Space for an active life
Physical activities are important aspects of modern prison life as exercise is known to have a positive effect on inmates' mental and social well-being. Clustering the buildings around the centre has left space for a seven-a-side soccer pitch and running track in the landscaped area within the perimeter wall.

The activity building has a large sports hall with badminton, basketball and handball courts. There are two small sports halls in the maximum security wing. Each cell unit has its own fitness room.

Security through architecture
The architecture provides vantage points for prison staff, from which they can oversee a complete floor of a cell unit. Staff have a wide field of vision in several directions from central guardroom spaces. While providing staff with a sense of security, these spaces will be an obvious natural place for inmates and staff to meet.
To boost staff safety, there are also secure spaces and escape routes in each individual unit. Staff can gather here and maintain the upper hand in the event of unrest among the inmates. In addition, the new prison's electronic security system has almost 300 CCTV surveillance cameras.
Blending into the landscape
The aesthetic design of Storstrøm Fængsel's surroundings is of signal importance to inmates and staff living and working at the prison on a daily basis.
"Areas surrounding the buildings are designed essentially to add spatial and visual variation to the extremely static and enclosed environment", says Marianne Levinsen from Marianne Levinsen Landskab.
Surfaces are made of asphalt coated with stripes of red, black and white granite gravel. Small lawns up against the building facades maintain privacy and make the inner spaces greener.
"The distinctively graphic design of the streetscape enhances and lends aesthetic identity to the outdoor areas", says Marianne Levinsen.

A prison within the prison
Inside the prison, there is a maximum security unit for negatively dominant and restricted status inmates. This unit is surrounded by a wall, and inmates and prison staff are physically separated. In other units, staff man an open desk.
Storstrøm Fængsel will be officially opened on Wednesday, 27 September. The opening ceremony will be attended by several dignitaries, including Justice Minister Søren Pape Poulsen and Erik Bang, Head of Group Facilities in the Danish Prison and Probation Service. After the official inauguration, the prison will be swept, and the first inmates are expected to arrive in October.
Storstrøm Fængsel is a Danish Prison and Probation Service facility, designed by a consortium comprised of C.F. Møller Architects and engineers Rambøll with Marianne Levinsen Landskab (landscape architects) and Aggebo & Henriksen Design as sub-contracted consultants and artistic contributions by Claus Carstensen and John Kørner.
Gallery