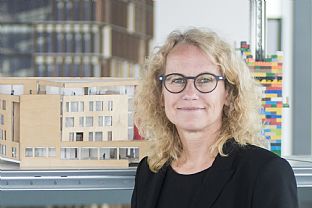 14.1.2019
New partner and CEO at C.F. Møller Architects
C.F. Møller's current COO, lawyer Lone Bendorff, joins the partnership and is also appointed new CEO at C.F. Møller Architects.
For the past five years, the present CEO, architect and partner Klaus Toustrup, has served as CEO concurrently with the development of major projects. During this period, there was a need to focus on C.F. Møller's business development and the professionalisation of the entire organisation. Klaus Toustrup now feels that the time has come to pass on the baton and focus more on developing architecture through customer relations and the acquisition of new projects.
"It's with great pleasure that we now present Lone Bendorff as partner and CEO at C.F. Møller Architects. With Lone we benefit from an international vision and management experience that is not so common in the world of architecture. In view of Lone's strong and pleasant personality and her understanding of the architectural profession and the construction industry, it's a natural step and a great pleasure to make this appointment," says Chairman of the Board Klavs Hyttel.
Klaus Toustrup continues on C.F. Møller's Executive Board after passing the role of CEO over to Lone Bendorff.
"It is with pleasure and confidence that I pass on the baton to Lone. She has long been a significant part of our management team and now has full focus on the further development of C.F. Møller's position and potential. Lone's international experience from her time at Vestas, and her flair for decoding and accentuating C.F. Møller's unique culture and values, make her a strong managerial and forward-looking focal point for the entire C.F. Møller Group in the future," says Klaus Toustrup.
Lone Bendorff came to C.F. Møller Architects in 2015 from a position as Senior Vice President of Legal & Risk Management at Vestas and joined the Executive Board in August 2017 as COO, and she expresses great joy and humility at her appointment as CEO.
"I'm looking forward to the new role, and even though I feel awe and respect, I also consider myself to be well-prepared for the task. I have felt at home at C.F. Møller from the very first day, and the key principles of credibility, accountability and strong professionalism provide a strong base and important cohesion. I've also appreciated getting to know both the construction industry and the people in it during the past three years. Architects are part of a wide range of formal and informal partnerships to achieve both small and large projects. Both human relations and an understanding of the interests and economic conditions of all parties must be considered, and I think I have a very good understanding of this specific interaction, which we share with the rest of the construction industry," says Lone Bendorff.
Lone Bendorff took her law degrees from Aarhus University and Kings College, London. Before C.F. Møller Architects and Vestas, she was an attorney at Gorrissen Federspiel from 1998 to 2005.
The Executive Board now comprises CEO Lone Bendorff, Chairman of the Board Klavs Hyttel, CFO Birgit Møller and Partner Klaus Toustrup.
The group of partners consists of the architects Klaus Toustrup, Klavs Hyttel, Michael Kruse, Julian Weyer, Mads Mandrup Hansen, Lone Wiggers, Mårten Leringe and Christian Dahle, and lawyer Lone Bendorff.
There are seven associate partners, who are the architects Jonas Toft Lehmann, Rune Bjerno Nielsen, Lasse Vilstrup Palm, Ola Jonsson, Rolf Nielsen, Thue Borgen Hasløv and Franz C.A. Ødum.
About C.F. Møller
C.F. Møller Architects is one of Scandinavia's leading architectural companies with more than 90 years of award-winning projects in the Nordic region and the rest of the world.
Every day, we create architectural quality based on experience, innovation and Nordic values, ensuring sustainable and aesthetic solutions with lasting value for customers, users and communities.
Today the company has around 330 employees. We have offices in Aarhus, Copenhagen, Aalborg, Oslo, Stockholm and London.