Civic Trust Award for the Sogn & Fjordane Art Museum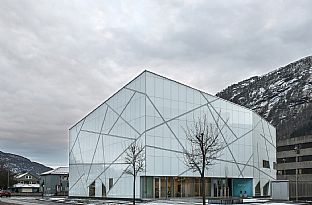 7.3.2015 | The Sogn & Fjordane Art Museum in Førde in Norway, a building that has become a beacon of the small community, has been awarded the prestigious British Civic Trust Award.
The Civic Trust Awards were founded in 1959 to recognise excellence in architecture, design, planning, landscapes and public art. The award is given to projects of the highest architectonic quality but only if the project is assessed to make an especially positive cultural, social or financial contribution to the local community and demonstrates commitment to sustainability and universal design principles. The British award is mainly bestowed on British architecture and only rarely awarded to international projects. This year, the Sogn & Fjordane Art Museum was one of the Civic Trust International Award winners.

The museum lies like a crystal-clear block of ice that has slid down from the surrounding mountains and the architecture is inspired by the landscape: In Førde the surrounding mountains are visible everywhere, and Jostedalsbreen, the largest glacier on the European mainland, lies in close proximity to the town.

Despite being realized on a lean budget, the building gives visitors a rich spatial experience culminating in a generous roof terrace with magnificent views of the surrounding mountainscape. The design is the result of an architectural competition, won in 2006 by C.F. Møller.

This is the fifth Civic Trust Award win for C.F. Møller, after previously receiving the award for the Darwin Centre at the Natural History Museum in London, the Hospice Djursland in Denmark, the Athletes Village (now East Village) in London and the Aalborg Waterfront in 2014. The museum in Førde was also the winner of the Førde Municipal Architecture Award in 2014.