Paper Factory Dalum
The masterplan for the Paper Factory Dalum transforms the historic industrial area into a new and diverse neighbourhood with close contact to both nature and Odense city.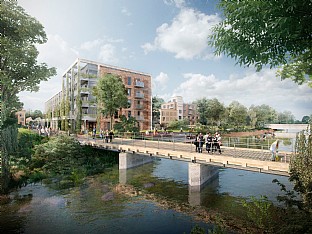 Facts
Architect
C.F. Møller Architects
Landscape
C.F. Møller Architects
The development of the overall plan has considered the preservation of the area's industrial identity and its proximity to nature. The new district will be a meeting point between nature and history of culture and is located at the former industrial plant where the historic paper factory was located. The plan includes the construction of 450 homes of different types, of which some will be built as apartments in the existing factory buildings.
In general, the new housing development consists of townhouses, apartments, senior housing communities, a grocery store and a unifying community building. They are all based on elements found in the architecture of the old industrial buildings, such as ruggedness of expression, clear grid divisions, high floor heights, large windows, shed roofs or interpretations thereof. As an example, the oldest paper machine hall is transformed into a large community house and orangery, and several of the larger existing buildings are fully or partially converted into spacious apartments. The many different types of housing provide a diverse and vibrant urban area.
Close contact with water and nature
A cultural axis is located at the centre of the area and helps to convey the history of the paper mill whilst also creating local and intimate meeting places for all. The axis - with its cultural offerings, shops and activities - connects the neighbourhood to the city with the area facing the river. In this way, nature is integrated into the plan, creating a relationship with the surrounding landscape and water, which is further enhanced by green wedges planned between the buildings. The area's green character is enhanced by a 40-metre wide green belt along the river. A cycle superhighway will be established along the river, which enables good infrastructure to and from the centre of Odense. In addition, pools and swales will be built to handle rainwater.
Gallery