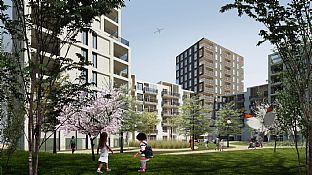 28.6.2017
New project for Swan Housing Association
Swan Housing Association is delighted to announce C.F. Møller's appointment as architects for Phase 3 of Blackwall Reach Regeneration Project.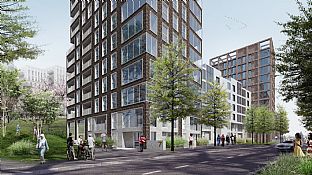 Swan Housing Association, which is delivering the £300m regeneration of Robin Hood Gardens, in Tower Hamlets in partnership with the London Borough of Tower Hamlets ("LBTH") and the Mayor of London, is delighted to announce the appointment of C.F. Møller as the architects for Phase 3 of the regeneration, known as Blackwall Reach.
Phase 3 will deliver approximately 330 new homes of which 50% will be affordable. The new homes will range from one bedroom flats to five bedroom maisonettes, providing much needed affordable accommodation for families in the Borough. They will be arranged to make the most of the central Millennium Green, which will be re-landscaped.

C. F. Møller Architects has been appointed following a competitive process. The appointment process, from Swan's architectural framework, focused on the approach the interested practices would take on design, how they would respond to the sensitive site and how they would work with the development partners and local community. A number of practices were shortlisted and five were invited to present their ideas.

All five firms who presented their ideas impressed the panel, but C.F Møller shone out on the basis of their excellent design ideas for Blackwall Reach and the focus on "inside out design" which puts the residents of the buildings first. Examples of C.F Møller concept drawings were released by Swan, with clarification that these are tender drawings and do not necessarily represent how the final scheme will look.

Swan's Executive Director of Regeneration and Development, Geoff Pearce said: "We were very impressed by their "inside out approach" to design. C.F. Møller really focused on the people who will live in these new homes and the relationship of the homes to the public realm. They were passionate about ensuring we deliver human scale street scenes and links into the landscape to offset the impact of the busy external environment, which is close to the Blackwall Tunnel. As a regeneration team, we felt strongly the C. F. Møller team would bring a fresh and positive approach to the next phase of Blackwall Reach and we are delighted to be able to continue and further develop the positive working relationship which has proved so productive in relation to their work for us on our regeneration of Laindon Shopping Centre".

Rolf Nielsen Associate Partner, Architect MAA ARB RIBA , C.F. Møller said: "We are exceptionally delighted to have been appointed as architects for this unique commission. 
Our approach to this challenging project is to develop an architectural and placemaking response with the focus on designing the best possible new homes within a challenging location. This complimented Swan's ambitious ideas for regenerating Blackwall Reach. 
Drawing on our experience of tailoring our design process around each project's unique circumstances we are looking forward to delivering an exceptional quality of architecture for the local community, The London Borough of Tower Hamlets and Swan."
Media contact Swan Housing Association: 
Jennifer Spencer-Charles, PR Manager 
T: 01277 844770 M: 07921 050060 E: jspencercharles@swan.org.uk
Notes to editors:
Images:
1. Court Yard View CGI
2. Street View CGI

About Swan Housing Association: Swan Housing Association was first formed in 1994. Swan celebrated its 20th Anniversary in 2014 and continues to provide high-quality affordable homes to rent and buy, today owning and managing over 11,000 homes. Swan has been recognised as one of the Top 100 Not for Profit companies to work for in the UK by the Sunday Times. 
Swan's mission is to "deliver effective services, enterprising solutions and exemplary homes and communities" whilst continuing to provide excellent housing services that meet the challenging needs of the communities of East London and Essex, delivering neighbourhoods that are healthy, vibrant and sustainable.

About C.F. Møller: C. F. Møller Architects is one of Scandinavia's leading architectural firms; with 90 years of award winning work in the Nordics and worldwide.

C.F. Møller's integrated design approach which seamlessly blends urban design, landscape, building design and building component design has been a cornerstone in our work since the practice was establis¬hed in 1924. That is how we create site-specific, sustainable, innovative and socially responsible design solutions to the long-term benefit of our clients and users.
Current residential projects include regeneration project on Laindon, Essex, as well as innovative high-rise projects in Antwerp, Oslo and Stockholm. Other important projects include a new mental health hospital in Tooting, South London and state-of-the-art research hubs for the Universities of Copenhagen, Odense and Stockholm.
About Blackwall Reach: The £300 million regeneration of Blackwall Reach being delivered in partnership by Swan with London Borough of Tower Hamlets and the Mayor of London will transform a key area of Tower Hamlets adjacent to the Blackwall Tunnel, replacing 252 homes with over 1500 new homes, commercial premises and new community facilities an extended school and new mosque as well as improved public realm and linkages to the DLR.

Phase 1A of the project has already delivered 98 new homes; 79 have been let to social housing residents, a further 8 homes have been made available to people living and working in Tower Hamlets and the remainder to leaseholders from Robin Hood Gardens to enable them to remain in the local area. This phase also delivered a new regional housing office for Swan Housing; a replacement mosque and an extended local school.
This phase also created The Reach, a fabulous new community facility at Blackwall.

Phase 1B of the project has now started on site and work has now commenced on this phase. Phase 1B will deliver 242 homes, of which 200 will be for private sale to help cross fund Phase 1A which was built to rehouse residents of Robin Hood Gardens. The remaining homes at Phase 1B will be made up of 36 homes for social rent and 6 homes for shared ownership. They will be accommodated in three buildings, around a new public square next to the Blackwall DLR station which will re-establish the way the site connects to surrounding areas. There will be two 10 storey buildings and a 24 storey tower with new shops and cafes at ground floor level around the new square. The new homes will be completed in early 2019. 
Phase 2 of the project was granted planning permission in September 2016 and will deliver 268 new homes across four new buildings. 
The architectural team for this phase includes Metropolitan Workshop and Haworth Tompkins who have been appointed as joint architects. AKT II and Townsheds also join the team for structural engineering and landscape design respectively.

Phase 3 – Phase 3 will deliver approximately 330 new homes of which 50% will be affordable. The new homes will range from 1 bedroom flats to 5 bedroom maisonettes providing much needed affordable accommodation for families in the Borough. They will be arranged to make the most of the newly landscaped Millennium Green. This phase will also contain some commercial space.