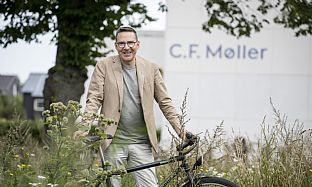 11.8.2017
C.F. Møller Architects appoints a Head of Sustainability
C.F. Møller Architects is increasing its focus on sustainability and has appointed Rob Marsh to the new position of Head of Sustainability.
Ever since the start, sustainability has been part of C.F. Møller Architects' DNA, and over the years the company has continuously worked to strengthen its sustainability activities through experience, innovative new solutions, modern opportunities and employee training. This focus is now being increased further with the appointment of Rob Marsh to the new position of Head of Sustainability.
"With Rob Marsh's appointment, we are ramping up our sustainability initiatives with a skilled and talented manager, to create opportunities to use experience and ideas from all of our offices, converting this to an international sustainability practice. This will be to the benefit of our customers and business partners, and a natural consequence of our ambition to create architecture and design in the service of humanity and our planet, to put it more grandly," says Klaus Toustrup, CEO and architect at C.F. Møller Architects.
Rob Marsh comes to C.F. Møller Architects from a similar position at Arkitema, prior to which he was a project manager and senior researcher at the Danish Building Research Institute. He will be based at our office at Holmen in Copenhagen, but since he will cover all offices, he will often be in Stockholm, Aarhus, Oslo, Aalborg and London.

"Together with the rest of the team I'm looking forward to fulfilling C.F. Møller Architects' objectives in the sustainability area, and helping to build on the fine results already achieved," says Rob Marsh, whose first day at C.F. Møller was 7 August.