C.F. Møller designs new neighbourhood in Södra Värtan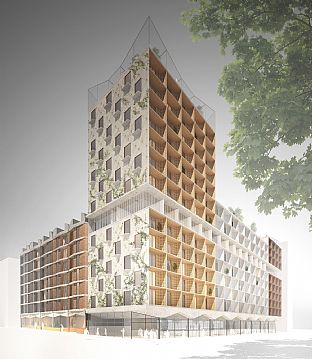 9.11.2016 | C.F. Møller has joined forces with DinellJohansson to design a new neighbourhood for Wallfast in Södra Värtahamnen, transforming a former industrial zone into an attractive, living urban quarter with 2,400 homes and 10,000 jobs. The new quarter will be an addition to Stockholm's environment profile zone Norra Djurgårdsstaden, one of the biggest urban developments in Europe.
Kvarteret Hull
The neighbourhood given the name of 'Kvarteret Hull' consists of 10,000 m² of housing and 10,000 m² for business and commerce, expected to be ready by 2021. C.F. Møller and DinellJohansson devised the proposal selected for design of the neighbourhoods.
"Helping to design one of Stockholm's most important urban developments is enormously exciting. We are delighted to have been entrusted with creating a unique residential area in line with the development of the port," says Mårten Leringe, CEO of C.F. Møller Sverige AB

Variation with character
The proposal draws inspiration from the rich history of the port and the vision of creating a well-populated and sustainable suburb for the future. The volumes vary in expression, according to programme types as hotel accommodation, offices and homes to create variety in appearance. The individual facades are graded in transparency and materiality depending on the external factors such as daylight, wind and noise.
"The houses will be varied, with clear identities and typical maritime features, designed to create an exciting urban environment. In that way, the architecture will enhance the public space and quality of life for residents," comments Sara Nilsson, architect at C.F. Møller.

Social and green
Neighbourliness will be created by spacious, green courtyards, and residents can meet in public facilities on the ground floor such as a gym, workshops, cafés and restaurants. The roofs will feature greenhouses, sun decks and green shared terraces for social interaction. The terraces and their flower beds will provide space for a rich flora to send a clear signal of the new urban quarter's ecological profile.

High environmental profile
As part of Norra Djurgårdsstaden, Södra Värtan will be developed into a quarter with a high environmental profile where offices, homes, shops and services are integrated with the existing ferry and cruise ship activities. Kvarteret Hull has a clear environmental and sustainable profile, which drives the design. The buildings will be highly advanced in their use of energy from the sun, daylight and seawater, along with the choice of materials used, water recycling, refuse, transport and indoor climate.