CARLSBERG CITY WILL SOON HAVE ITS OWN TOWN HALL SQUARE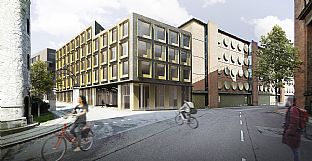 6.5.2016 | Carlsberg City's new centre will soon be appearing, with 3,000 m² of commercial and retail premises designed by C.F. Møller.
Bryggernes Plads (the Brewers' Square) in Carlsberg City will be the area's town hall square when the new quarter is completed in 2017. C.F. Møller has designed the urban quarter and the new commercial property, which – partly surrounded by listed buildings – will be the largest square in Carlsberg City, with cafés, shops and offices. These will all help to ensure that the Brewers' Square is bustling with life, night and day.

Carlsberg City is now kicking off the construction of the almost 3,000 m² of commercial and retail space at the southern end of the square. This has been announced by the company in a press release.
"The Brewers' Square will be the central square in the completed urban quarter, which makes it even more exciting to start up construction here," says Jens Nyhus, CEO of Carlsberg City.

The office property will be adjacent to Lagerkælder 3, also known as the 'Palace' – one of the iconic buildings from the old, preserved brewery site. The new property will thus also be located close to other important listed buildings in the quarter such as Kedelhuset (the Boiler House), Maskincentralen (the Machine Centre), Malteriet (the Malt House) and Dipylon (the Double Gate).

Matched to the location
The new building will fit into its surroundings naturally. The building's façades have references to Lagerkælder 3, including by re-creating the size of the square features on the façade from the neighbouring building.
The new building will be topped with a rooftop garden, supporting Carlsberg City's vision to be a green urban quarter with focus on sustainability.

"There are several listed, preserved buildings around the square, so we have a lot of focus on how what we're building is helping to emphasise the square and the surrounding buildings' qualities," says Jens Nyhus.

C.F. Møller is the architect for the new commercial and retail project, while EKJ is the engineer. B. Nygaard Sørensen is the turnkey contractor for the construction work. The project comprises a five-storey property, plus a basement, with around 2,800 m² of office space and 640 m² for shops and cafés.
The building will ready for occupation in 2017.