TOPPING-OUT CEREMONY AT ONE OF THE BEST SITES IN ODENSE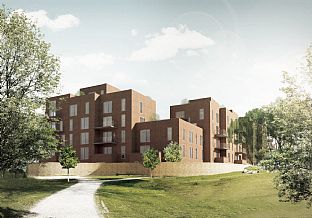 11.4.2016 | Klosterbakken - in the heart of Odense - is well under way, a site where 30 new homes designed by C.F. Møller has passed an important milestone. The project, under the supervision of Arkitektgruppen, held its topping out ceremony on 11 April.
A new urban area is taking shape as an extension of Filosofgangen and alongside the H.C. Andersen Haven (Eventyrhaven). Klosterbakken in Odense will be an active contribution to the green heart of the city, and is being built with the utmost respect for the architecture and traditions of the area.

C.F. Møller is responsible for 30 new apartments of between 94 and 271 m² composed of different types - several on two floors - and all with access to an outdoor space. The apartments on the upper floors have large roof terraces with a stunning view, and all the dwellings are
spacious, with generously dimensioned bedrooms and lounges.

The project has completed the building shells and the group was therefore able to hold its topping-out ceremony on 11 April, a day when the sun made every effort to demonstrate the many facets of the development due to its unique location.

Direct contact to the cathedral, city hall and Flakhaven mean Klosterbakken's history can be dated right back to around 1874, when Munke Mølles Klædefabrik was built here on what was then a deserted island in the Odense river.

The project will revitalise the city, by transforming the site currently used as a car park from a visually dull area to an attractive new urban environment.
The building design pays tribute to its unique location by creating a link between the new and historic areas, and will be finished in red brick - the dominant facade material of the surrounding buildings.

Architectural inspiration was drawn from the former use of the site as a monastery, and interprets the architectural styles already found there. The building is formed as an enclave of brick-built dwellings around a common courtyard open to the south. The dwellings face outwards, overlooking the cathedral, river and H.C. Andersens Have.

The complex has a total floor area of approx. 4,000 m² and was designed for Arkitektgruppen, the developer.